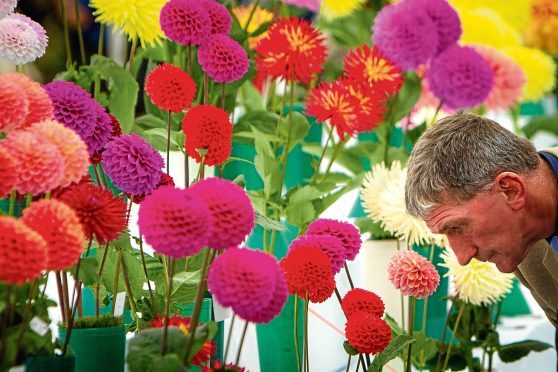 More than 20,000 people are set to descend on the City of Discovery over the next three days for the Dundee Flower and Food Festival
With special guests including popular chefs Nick Nairn, Tony Singh and Scottish Masterchef winner Gary Maclean, it is hoped this year's event could beat previous records.
Organisers say the festival is now the biggest competitive horticultural show in Scotland.
The local economy is set for a welcome boost too.
Hotel boss Richard Ellison said the festival was "huge" for the local hospitality trade, saying the whole city would be "sold out" for the event.
Mr Ellison, chairman of Dundee and Angus Visitor Accommodation Association and manager of the DoubleTree by Hilton Hotel, said: "The good thing this year, and every year since the festival started is it's always successful for the Dundee hospitality sector.
"The weekend always gets very busy very quickly and although we aren't quite full up yet, we will be full soon I'm sure.
"I would imagine the whole city will be the same in terms of hotel rooms filling up before this evening.
"The festival is great for the city, it's huge.
"It brings in some opportunities for September when the summer period has begun to die down.
"It's also a boost in the number of Sunday guests we have staying here as usually they will tend to depart.
"But for an event like this they stay on the Sunday night too.
"Without the festival, there would definitely be a drop in reservations.
"The festival was here before the Waterfront work began and was already a success.
"Let's hope other event organisers see this success and decide to bring other things to Dundee."
Dundee City Council has highlighted a new gardening competition — the British Begonia 12 Board Championships — which organisers expect will be a big draw.
Convener of neighbourhood services councillor Kevin Cordell said: "The Flower and Food Festival is a huge event and this year it is on track to be as popular as ever.
"Over the course of the three-day extravaganza, we expect 20,000 people to attend.
"The team here has worked really hard to attract a range of celebrities including Andy Day, the children's TV presenter, and hugely popular chefs Gary Maclean, Nick Nairn and Tony Singh.
"Our gardening guest this year is Jim McColl.
"The competition flower show is the largest in Scotland with more than 100 trophies available to be won, including the Lord Provost's Trophy, and this year the festival will be hosting the Begonia championships and the Scottish National Chrysanthemum and Dahlia Show.
"I would urge everyone to come to Camperdown this weekend and enjoy this fantastic festival."
The event runs from 10am-5pm today and from 10am-5.30pm on Saturday and Sunday.
Tickets are now on sale at the Dundee City Box Office.
Accompanied children under the age of 16 are free all weekend. Friday tickets cost £9 and accompanied children under. Day tickets (Saturday and Sunday only) are £12 for adults and £11 concession.
A three-day ticket is £24 per adult and £22 concession.
Tickets can also be purchased in person at Camperdown Park.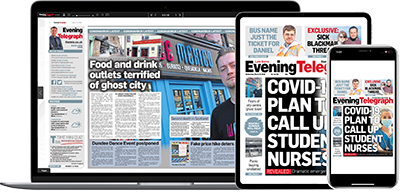 Help support quality local journalism … become a digital subscriber to the Evening Telegraph
For as little as £5.99 a month you can access all of our content, including Premium articles.
Subscribe