Local businesses have banded together in a bid to replace children's charity cash that was stolen in a shop raid.
It comes after shocking CCTV images came to light, taken from Redberry on Crichton Street, showing a brazen thief placing an order for a waffle before grabbing the tin — believed to have contained between £30-£40 — from the counter..
Business owner, Waqaar Younis, 22, told of his disgust at the theft and has now launched a fundraising campaign alongside fellow businessman Liam Fullerton to recoup the losses for Cash for Kids — the charity set to benefit from the tin.
The group has targeted raising more than £1,000 for the organisation.
Liam, 23, who owns Dundee Glass and Glazing and also Dundee Glass Balustrades Ltd, donated £100 from each of the businesses — a similar sum was donated by local business ECF Welding and Fabrication.
He said: "I saw what had happened and thought they might get the box back but I didn't think they would get the money back. I suggested to them they could start another tin and I would donate £100 and Waqaar said he would put £100 in too.
"Then we had donations from other businesses.
"We want to see how much money we can raise, hopefully much more than the value of what was taken that day.
"This could actually work out better for the charity — it is turning a negative into a positive."
Liam encouraged local business owners to lend their support to the fundraising drive.
He said: "People who have companies, like me, are in a good position — we aren't asking single mothers who can't afford it to donate £100.
"This is about everyone coming together and trying to do something good.
"The support has been brilliant so far — I think we can raise more than £1,000."
People who want to contribute to the fundraising drive can visit: gofundme.com/tay-fm-cash-for-kids.
VIDEO: Shocking CCTV footage shows brazen thief ordering waffle at Dundee shop before swiping charity tin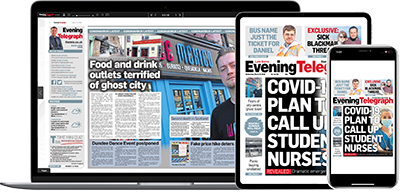 Help support quality local journalism … become a digital subscriber to the Evening Telegraph
Subscribe