Dundee's firefighters were called out almost 150 times in a five-hour period on Bonfire Night, the service has revealed.
City crews were called 143 times between 5pm and 10pm on November 5. A third of those calls were bonfire-related.
Buildings at the allotments next to the Law went up in flames and many unofficial bonfires had to be extinguished after getting out of hand.
Reports of antisocial behaviour – including children throwing fireworks into a bonfire in Kirkton – were also reported by members of the public.
Shock as gang of 20 kids 'throw fireworks into bonfire' in Dundee
Alan Ross, convenor of the community safety and public protection committee, said: "I was concerned to hear people are throwing fireworks, it's a very irresponsible and dangerous act.
"I am meeting with the fire service and issues will be discussed."
Lewis Ramsay, SFRS director of response and resilience, said: "Bonfire Night is typically the service's busiest night of the year, but in addition to numerous bonfires, firefighters continue to respond to the full range of emergencies we face on a daily basis.
"Our frontline crews and operations control personnel are extremely dedicated and I would like to pay tribute to their professionalism, skill and hard work."
There were also several reports of attacks on firefighters across the country.
Mr Ramsay added: "This type of behaviour not only prevents our crews from bringing any emergency to a safe conclusion but it can impact on our colleagues, including the police when they have to escort us at the scene."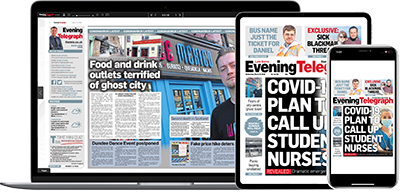 Help support quality local journalism … become a digital subscriber to the Evening Telegraph
For as little as £5.99 a month you can access all of our content, including Premium articles.
Subscribe