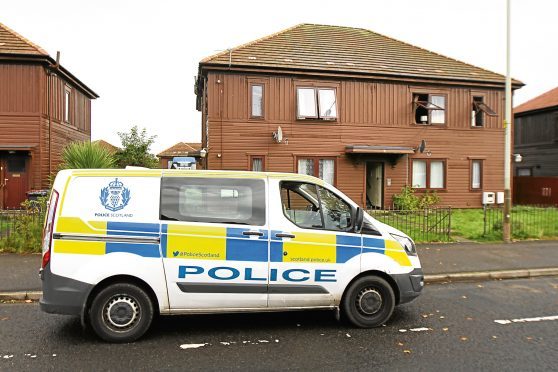 Witnesses have spoken to the Tele after two people had to be rescued by firefighters after their home was set alight.
Fire crews were called to a blaze at Glenconnor Drive in the Linlathen area just after 8.30pm on Thursday.
The two occupants of the first-floor flat — one of whom was male — were not injured but police are treating it as suspicious.
A woman who lives nearby, who did not wish to be named for fear of reprisals, said: "Somebody was at the door screaming through the letterbox for about 10 minutes.
"They then rolled up the doormat, lit it and shoved it though the door.
"I don't know what they were arguing about."
She said that passers-by went into the close to see if they could help after hearing screams.
She continued: "The fire engines were here in minutes.
"The man inside wouldn't open his window.
"The fireman had to come up the ladder and open the window from the outside."
The resident added: "I don't feel safe in my own home. I couldn't sleep last night.
"It makes me want to move away."
Maria Allan, 65, who lives a few doors away, said: "We heard two girls screaming.
"People who were passing went into the closie. A man had to be brought out by ladder."
A police van was parked outside the block today.
All the windows to the flat were open and there was visible fire damage on the front door, with the letterbox melted away (pictured inset).
A police spokesman said: "Police Scotland is carrying out inquiries after a fire at Glenconnor Drive between 8.30am and 9pm yesterday.
"The fire is being treated as suspicious.
"Anyone with any information that may be useful should contact Police Scotland on 101 quoting CR/25415/17 or speak to any police officer.
"Alternatively information can be passed anonymously via the charity Crimestoppers on 0800 555 111."
A Scottish Fire and Rescue Service spokesman said: "We were called to reports of a dwelling fire at 8.37pm.
"Two people were rescued."
Firefighters rescue two people from 'suspicious' Dundee flat fire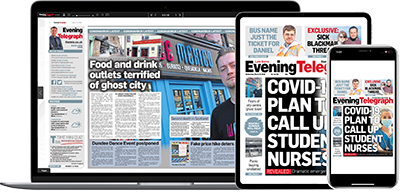 Help support quality local journalism … become a digital subscriber to the Evening Telegraph
Subscribe