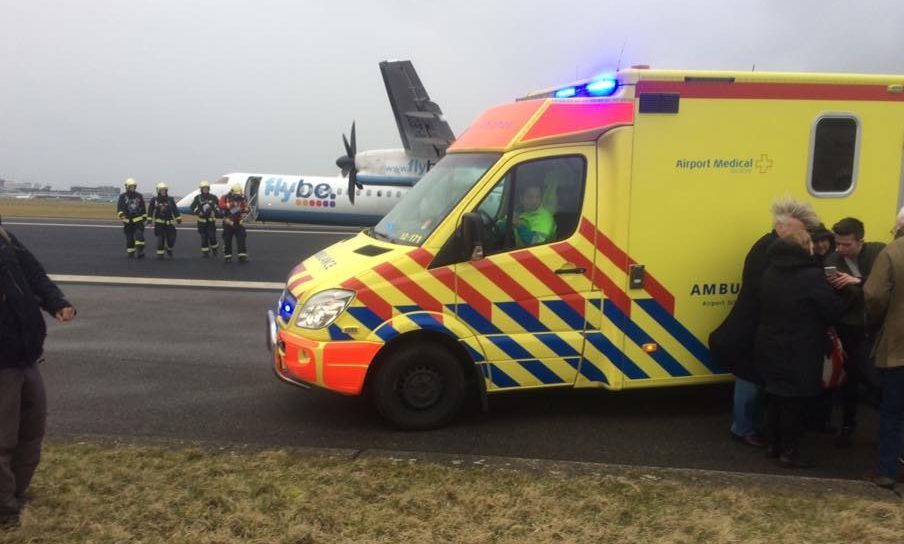 A Dundee FC director has told of the terrifying moment the plane he and his wife were on crashed-landed at Amsterdam's Schiphol Airport.
Ian and Linda Crighton were headed for a weekend break in the Dutch city when their Flybe flight from Edinburgh on Thursday evening hit the runway with a bang and part of the landing gear collapse on touchdown.
And while no one was injured, the local accountant has revealed passengers were left badly shaken and fearing for their lives. He told the Tele: "It was rough on the approach to the airport and Linda was feeling airsick.
"I was chatting to her and pointing out landmarks to try to distract her attention from the nausea and then, just as the plane should have touched the tarmac, it seemed to be caught by a massive gust of wind. It went up the way for a couple of seconds and then came down with a huge bang. Something gave way on the underside of the plane and for the next 30 seconds there was a loud screeching and a smell of burning metal as it skidded along.
"It's 30 seconds I wouldn't want to go through again. It was terrifying and you are sitting there thinking: 'Is this plane going to burst into flames or flip over?'
"Then it came to a stop and as frightening as it was everyone stayed very calm. My wife and I were at the back of the plane and when we looked round a stewardess was on the phone and seemed to be asking for instructions. It was actually Linda who got up and said: 'Never mind that. Get the door open so we can get off,' and she did.
"We were able to just step down on to the runway and walk over to the grass.
"Fire engines were on the scene right away and about five minutes later buses came to take us to the terminal."
In the terminal the passengers were checked and their details taken.
After around two-and-a-half hours their luggage was delivered to them and they were allowed to leave the airport.
Ian added: "Although no-one needed as much as an Elastoplast we were all pretty shaken. It wasn't quite so bad for us because we were not on the side of the plane where the wheels collapsed. A couple of young lads who were, looked really badly shaken."
Flybe is investigating the incident.