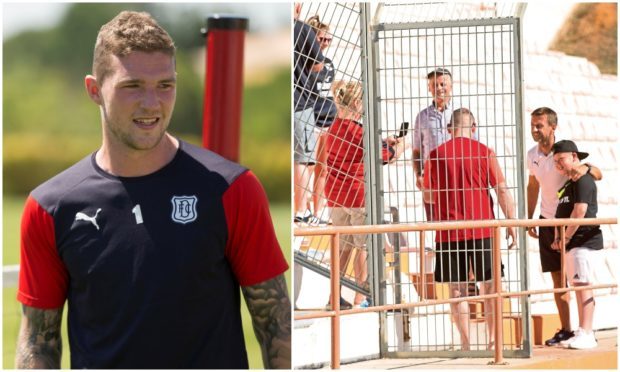 Dens Park new boy Jack Hamilton says the sight of Dundee fans making the trip all the way to Portugal to watch their side is an inspiration.
The Dark Blues have been in the Algarve since last Wednesday, playing a training game with Sunderland and another with Portuguese top-flight side Portimonense on Sunday before finishing things off with a friendly clash with local side SC Farense last night.
That game is expected to draw some away support after a handful of supporters showed up for the 4-0 training game loss on Sunday at the Estadio Municipal de Albufeira.
And that dedication to their team is something Hamilton wants to repay in the coming season.
He said: "It says a lot for the fans to come out here.
"They could have gone anywhere on holiday to be fair but they've come here to show the boys a bit of support and we really appreciate that.
"It's fantastic and, hopefully, we can repay them for coming to places like this with good results."
For Hamilton, as a new signing, the trip to Portugal has been a great way for him to get to know his team-mates a lot better. And he is eager to get going when the competitive games finally get under way this weekend away at Stirling Albion in the Betfred Cup.
"It's been good, I'm really enjoying it," he added.
"It's a fantastic club, fantastic fanbase as well. Everyone has made me feel welcome, the boys are brilliant with me and the manager and staff are really good.
"I'm enjoying it and just desperate to get back out on the park and get playing again.
"The facility is brilliant, the hotel is nice, food and everything is good – it's everything you want and it's good to get the boys all together.
"Being a new boy as well, it's good to be able to get to know everybody that wee bit better and getting a better understanding with everybody, I'm really enjoying it."
Hamilton started Sunday's game against Portimonense in Albufeira before being replaced halfway through by Elliott Parish with the score at 1-0.
The final scoreline of 4-0 flattered the Portuguese side a little and Hamilton insists there was plenty of good work done to help their preparations for the coming campaign.
"It wasn't the result we wanted, it was disappointing in that way but it was good to get back on the park again.
"It was difficult conditions, absolutely roasting, playing against a good side but I felt there were times we played well and are starting to look like a good team.
"They were a good side, the effort from the boys was there, we lost a few bad goals but, other than that, the boys worked hard.
"We're all gearing up for Saturday.
"It was good to get back playing two 45 minute halves, a full 90 minutes as well. It's a game we're looking forward to."
Former Hearts goalie Hamilton has a rival for the gloves at Dens Park, with last season's No 1 Parish having done well in the Dundee goal following the departure of Scott Bain.
The 28-year-old has already issued a challenge to his new pal Hamilton ahead of the campaign that he'll have a battle on his hands.
It's not one the new man is likely to shirk away from, however.
He added: "I don't think there's anywhere there isn't a battle for the gloves but it's a fight I'm really up for and I want to be playing.
"I got a good run at Hearts, 60-odd games but I'm here now to further that and I'm desperate to get more games and make myself better."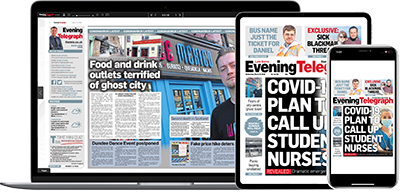 Help support quality local journalism … become a digital subscriber to the Evening Telegraph
For as little as £5.99 a month you can access all of our content, including Premium articles.
Subscribe