X Factor's Wagner appeared at the Premiership play-off final between Hamilton and United thanks to Dundee fans, a Dark Blues supporter has claimed.
Many were left mystified when the star of the 2010 show took to the stands at the Superseal Stadium.
However, Dee Paul Anderson insists that his group, who enjoyed hospitality at the game, were behind the stunt in a bid to troll Arabs after the singer's teasing songs about Tangerines' relegation.
A grand total of £2,300 was paid for the hospitality and the Brazilian singer's appearance, the 50-year-old claimed.
He said that the group of "long-standing" friends, which includes two United fans, from Dundee and England occasionally get together for hospitality at grounds across the country.
It just so happened the pals were all in Glasgow for a birthday party and had arranged to go to the play-off decider the following day.
Wagner was in attendance as part of the group for both functions.
Paul said the whole stunt was "good-natured teasing and banter" towards Arabs in the group and beyond.
Although not officially confirmed by the South Lanarkshire club, a spokeswoman at Hamilton Accies did say Wagner was attending a do – and she too managed to snap a selfie with him.
Paul said: "I organised it when Hamilton were 3-0 up against Dundee (on May 20) – so I got the table early.
"There were eight in our group and the wife and son of the Hamilton stadium manager were in with us as the tables are 10."
As for Wagner, he added that his appearance was cut short due to a commitment at the Championship play-off final between Huddersfield and Reading at Wembley today.
He added: "He was highly entertaining for the evening before and the game – a very funny guy.
"He doesn't follow football but aware of the Dundee rivalry and his connection to the Dees in particular.
"He had to leave at half time to catch train back to his home in Birmingham as he's Ladbrokes guest for play-off at Wembley.
"The party guests were all delighted with him and he was very open and friendly with them.
"His life must be tough though as he's asked for selfies almost constantly.
"This really has been the gift that keeps on giving.
"We got him to do a video message with United staying down on Friday and it has over 100,000 views already."
PICTURES: Dundee United fans suffer Hamilton heartbreak in play-off final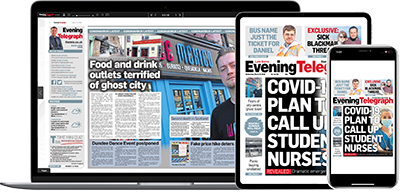 Help support quality local journalism … become a digital subscriber to the Evening Telegraph
Subscribe