Fans and former teammates paid tribute to Dundee icon Alan Gilzean on Friday as the legendary striker made his final journey past Dens Park.
Supporters young and old braved the rain as the hearse carrying the title-winning forward drove up Sandeman Street just before midday.
The ex-Dark Blues and Tottenham Hotspur star died earlier this month aged 79, just weeks after being diagnosed with a brain tumour.
Among those to attend his funeral at Dundee Crematorium were several of his ex-Spurs teammates, including Pat Jennings and Alan Mullery.
About 80 supporters gathered outside the stadium to pay their respects.
Mark Kerr, 64, originally from Lochee, travelled down from Inverness to bid farewell to Mr Gilzean, who he said was one of his heroes.
He said: "I was at Dens when Dundee won the league.
"I was seven years old and I remember it distinctly.
"I watched him playing in Europe and it confirmed I wanted to be a Dundee supporter for life.
"I saw Alan at a hall of fame dinner at the Invercarse recently, so I was shocked to hear of his passing.
"I'm the chairman of the Highland Dark Blues. I've come down from Inverness to pay my respect, and I'll be raising a drink in his memory tonight."
Born in Coupar Angus, Gilzean is considered one of the finest players to grace Dens Park and netted an unrivalled 169 goals during the halcyon days of the 1950s and 60s.
His eye for a goal was a crucial factor in Dundee's title-winning season in 1961-62, before the club went on to reach the semi-final of the European Cup.
Season ticket holder George McLaren, 73, said: "He has been such a big part of Dundee FC. My favourite memories of him are probably the goals against Dundee United.
"I was shocked to hear of his passing and wanted to come here today to pay my respects. He will never be forgotten. He proved himself here at Dens and at Spurs.
"An absolute legend for both clubs."
Fellow fan Daniel Smith, 33, from Maryfield, added: "There's been a good turnout of people paying their respects here today at Dens.
"He is a Dundee legend. I grew up on stories about Gilzean through the years and the things he accomplished at Dens. He still holds a number of records at Dens Park."
A tribute on the Dundee FC website stated: "Everyone at Dundee Football Club was devastated to learn of the death of Dundee legend Alan Gilzean aged 79 after a short illness.
"A true Dundee legend in every sense of the word, we may never see his goal scoring like again and the thoughts of everyone at Dens Park are with Alan's family and friends at this difficult and sad time."
He made the jump from Tayside to Tottenham in 1964 for a £72,500 fee, lifting two League Cups, the FA Cup and the UEFA Cup.
As well as the dark blue of Dundee, Hall of Famer Gilzean earned 22 Scotland caps between 1963 and 1971, bagging 12 goals.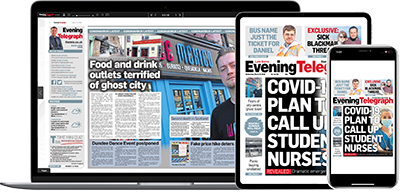 Help support quality local journalism … become a digital subscriber to the Evening Telegraph
Subscribe