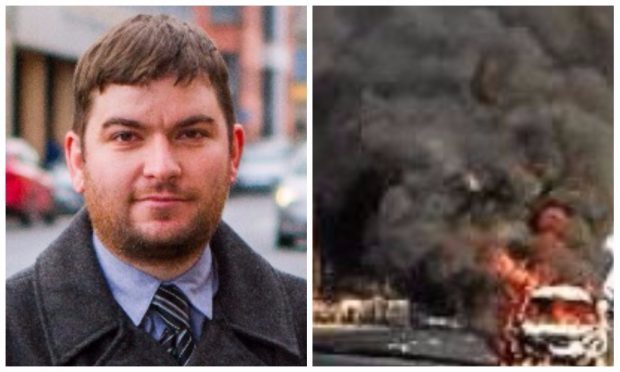 A Dundee man says he and his family are lucky to be alive after his car burst into flames on the M90.
Kevin Weir, 33, from Menzieshill, had been travelling to the Edinburgh Christmas Market when his Mazda5 MPV "exploded" at junction eight, near Milnathort, in Perth and Kinross.
Kevin, who has had no previous issues with the vehicle he's owned for more than five years, heard a fizzing noise coming from the seven-seater shortly after setting off.
He said: "We still have no idea what happened to the car. It was due its MOT on Friday.
"We were driving down the road towards the Edinburgh Christmas Market when I heard a noise coming from the vehicle.
"We were travelling about 70mph on the motorway, so I started to slow down.
"As we started to slow, the noise grew louder — and then I heard a loud bang."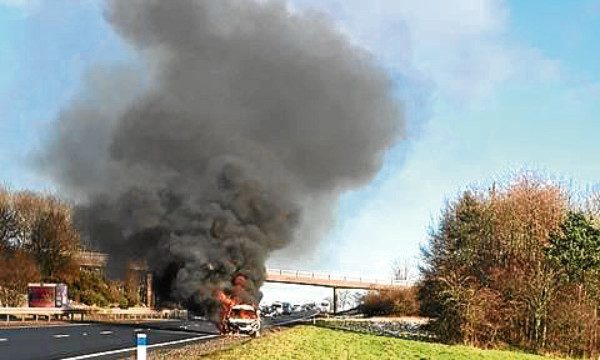 Kevin pulled over and quickly got his wife and two young children, aged eight and three, out of the car.
He added: "When we were a significant distance from the car, I took the decision to go back to get blankets, as I didn't want the kids to get cold while we were standing there.
"As I went back to the car, I noticed the grill of the vehicle was on fire.
"Within minutes, the car exploded and flames engulfed the vehicle — it was like a firework going off. There were a few small explosions after that."
The former Abertay student said his family could have died on Sunday had they driven any further.
"I contacted the fire service and I assume others did so too when they saw the blaze. Where we were situated was in the middle of nowhere," he said. "It took about 30 minutes for the police and the fire service to arrive.
"Given how quickly it took for the car to go up, if we'd driven any further, we probably would have died.
"Fortunately, my kids remained fairly calm, considering what was going on."
A Scottish Fire and Rescue Service spokeswoman said: "One crew from Perth was despatched at 11.28 after reports of a vehicle on fire.
"The fire service were liaising with the police."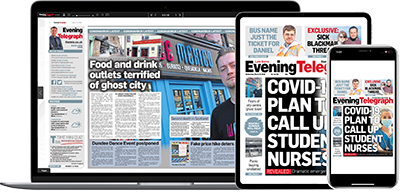 Help support quality local journalism … become a digital subscriber to the Evening Telegraph
For as little as £5.99 a month you can access all of our content, including Premium articles.
Subscribe