When you think of the year 1912 it seems like a completely different world.
But in that year Ethel Lees was born in the small village of Newtyle – and just a few weeks ago, on May 23, she celebrated her 106th birthday with her large family.
Ethel was raised in a two-bedroom flat in Lorimer Street, Dundee, and later in Roseangle House as one of eight girls and four boys in the Milne family.
At the age of 23, Ethel married husband John at the registrar's office which was located at the bottom of King Street.
The couple had three children together Brian, Jack and Muriel.
In 1963 the couple, together with son Brian, moved to Toronto, Canada, where daughter Muriel lived, and they were joined by son Jack two years later.
Tragically the family were only there for four years before Ethel's husband died at the age of 55.
Ethel stayed in Canada with her daughter until 2013 when Muriel died following a lengthy illness.
Although Ethel often visited Dundee she only moved back permanently to Broughty Ferry in February, where she now lives with son Brian.
Although Ethel's hearing is starting to deteriorate at the grand age of 106, she has had no major operations and her memory is second to none as she often reflects on her time playing field hockey as a goalie or her time spent travelling the world competing in Scottish Dancing competitions.
She learned to drive while in Canada and only stopped when she was 92.
Ethel said: "I have been very lucky to live this long and it is great to still keep in touch with my sister Ruby who will be 99 this year.
"I have a great memory and could tell you stories and memories for days."
Her sons Brian and Jack said: "With a thousand stories and memories all the family wish this remarkable woman a very happy birthday and we hope she enjoyed her special day."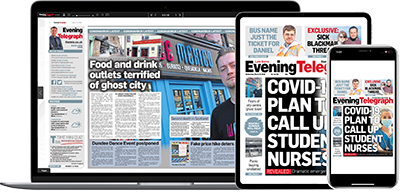 Help support quality local journalism … become a digital subscriber to the Evening Telegraph
For as little as £5.99 a month you can access all of our content, including Premium articles.
Subscribe