Dundee has been selected to host the 7th World Union of Karate Federations (WUKF) World Karate Championships for all ages.
The event, one of the largest martial events in the world, will bring more than 4,000 athletes, supporters, coaches and officials from around the globe to Dundee with the event being held at Dundee Ice Arena. The event will be held from June 12 to 17 2018.
Dundee-based Kanzen Karate Scotland (KKS) launched the bid to host the competition in June last year and has been working with Dundee and Angus Convention Bureau, Leisure and Culture Dundee and other organisations within the city to make the bid successful.
Members of KKS will have the chance to represent their country. KKS is the current Dundee Sports Club of the Year and KKS President, Roy O'Kane, is the current Dundee Sports Coach of the Year.
The group says it will place legacy at the heart of the event with world champions visiting local primary schools to teach and inspire while they attend the competition
Roy O'Kane, President of Kanzen Karate Scotland, said: "We are delighted to announce that we have been successful in our bid to host the WUKF World Karate Championships in Dundee.
"An event of this size will have a significant impact on our city whilst raising the profile of Scottish karate more generally.
"It's a tremendous honour that the executive committee of WUKF have placed their trust in Kanzen Karate Scotland and the City of Dundee to deliver this competition, but we can and we will.
"We are really honoured to be playing our part in showcasing Dundee on the international stage.
"There is still lots of work to do but we are looking forward to working across the entire City to make sure this event is a success and has a lasting legacy. "
Bob Duncan, chair of Leisure & Culture Dundee, said: "This event shows that we can attract world class events to our venues in Dundee and is a tremendous opportunity for those involved in sport locally to compete on home turf.
"Kanzen Karate were very successful at our own sports awards recently and we wish them further success at these championships.
"We also look forward to welcoming competitors from across the globe to Dundee Ice Arena in 2018."
Karen Tocher, business manager for Dundee and Angus Convention Bureau, said: "We at Dundee & Angus Convention Bureau were delighted to work in partnership with Roy O'Kane, Kanzen Karate Scotland President and look forward to continuing our support for all the organisers in the planning of this major event.
"Dundee has proven in recent years that it's an ideal location for international events and conferences; our bureau partners and the city have also all been behind us, by offering competitive rates and services in support of the bid.
"It's been a team effort to bring this prestigious event to Dundee, which will bring around 4,000 athletes, supporters, coaches and officials from around the globe and it is estimated that this will generate over £9.7 million for the local economy."
Summary
The event is the largest of its kind in martial arts and previous hosts include Dublin, Verona, Liege and Lake Garda.
Dundee and Angus Convention Bureau has estimated it could have an impact of £9.7million to the local economy.
The event will bring the top karate athletes from around the world to Dundee.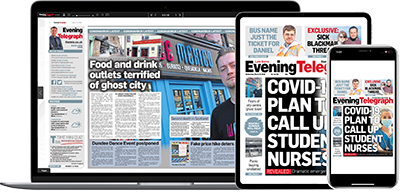 Help support quality local journalism … become a digital subscriber to the Evening Telegraph
Subscribe