The Scottish Government could introduce "controversial" and "unpopular" tactics in an effort to cut the number of drug-related deaths.
Health Secretary Shona Robison, who also represents Dundee City East, admitted that despite huge investment in tackling substance abuse, the number of deaths had continued to rise.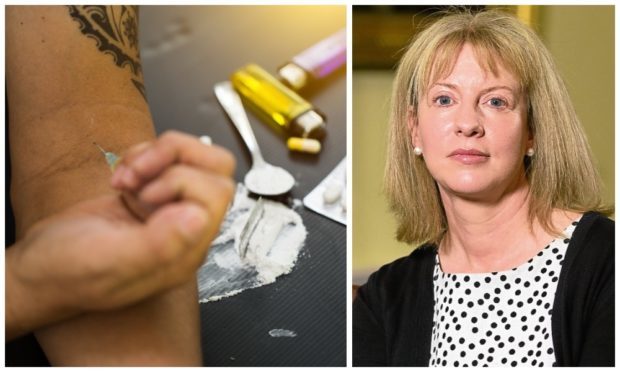 Now she's prepared to develop "innovative" new approaches to tackling drug deaths.
It's likely that will include so-called shooting galleries — facilities in which addicts are able to inject drugs in a safe environment.
Health chiefs say that evidence from similar centres overseas shows they reduce death rates because of their controlled nature.
However, their introduction has been met with some public and political resistance — with the majority of Tele readers taking part in a recent poll saying they didn't think such a move would save lives, and concerns raised about their presence in communities.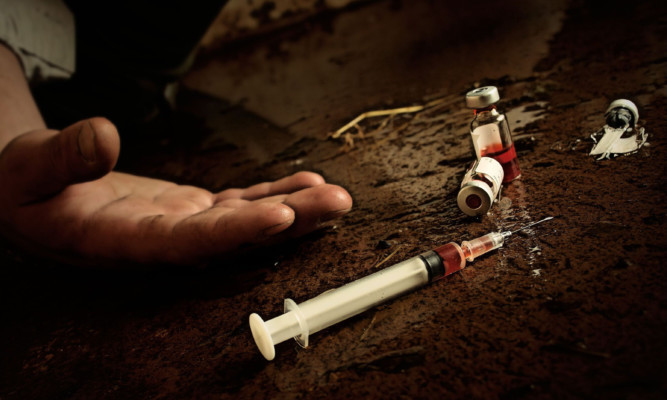 Ms Robison said: "We are concerned by the ongoing rise in drug-related deaths across Scotland, and are fully committed to tackling the damaging impact of drugs in Scotland.
"The nature of Scotland's drug problem has changed and our refreshed strategy will ensure the treatment and support offered by services are realigned to better meet the needs of those who are most at risk as a result of their substance use.
"We are prepared to take forward innovative, evidence-based approaches in order to tackle this issue, even if at first they may be unpopular or controversial.
"This is highlighted by our support for Glasgow's safe drug consumption facility, a matter which we will continue to press the UK Government on to devolve powers or to change current laws to allow the introduction of such facilities. Dundee has launched a commission to investigate ways to tackle the area's problem, and we will continue to support Dundee throughout this process.
"We have invested more than £746 million to tackle problem substance use since 2008, the vast majority directly supporting local prevention, treatment and recovery services. Despite this investment drug deaths have continued to increase over this period."
Joe FitzPatrick MSP, whose Dundee City West ward covers many of the areas badly affected by drug deaths, says a focus is needed on the causes of addiction.
"Many of those involved have unfortunately been battling addiction for years, if not decades, which places them at a higher risk of premature death," he said.
"Our understanding of the causes of drug addiction has been evolving in recent years, with more emphasis being placed on the underlying factors, such as poverty and deprivation.
"The Scottish Government is set to publish its new drugs strategy in the summer, and this will help to focus our ongoing efforts to tackle the harmful effects of drug abuse.
"I know that everyone involved locally is determined to save lives, and the new Dundee Drug Misuse Commission is a clear signal of intent from the council and health partnership, and it will be important in improving understanding of why people turned to drugs and what we can do to help them get off them for the long-term.
"As politicians, we all need to come together and back an evidence-based approach to help tackle this issue, as is being put forward by the medical experts. And we need to recognise that some of the proposals being put forward might be controversial, but lives are at stake." Dr Emma Fletcher, NHS Tayside's consultant in public health, insisted plenty was already being done on the issue.
She said: "We are aware that one of the reasons for the increase in drug deaths is due to an older population of drug users who are experiencing multiple health conditions.
"In Tayside we do everything possible to closely monitor emerging risks and keep people safe through the provision of treatment and support.
"This includes an extensive Naloxone programme, encouraging those at risk and their families to have Naloxone in their homes so that it can be administered in the event of an overdose.
"We are also improving the communication and information sharing between prescribing services and individuals.
"We offer targeted and specific intervention to individuals who have experienced non-fatal overdoses to avoid further incidents.
"Most significantly, during 2018, Dundee Alcohol and Drugs Partnership (ADP) will be holding an independent commission on drug misuse in Dundee which will focus on examining the reasons and causes of drug use in the city, and the impact on individuals, families and communities.
"The first meeting of the commission will take place at the end of this month and will also focus on drugs deaths, identify and investigate the key causes, and highlight what needs to happen to reduce drug deaths.
"The commission will listen to the views of individuals, families and communities affected by drug use and by drug deaths. The commission will also consider what has worked elsewhere in Scotland, elsewhere in the UK and other countries to combat drug misuse and drug deaths, including approaches to achieve prevention and recovery.
"Towards the end of 2018, the commission will recommend practical and achievable actions that should be followed in Dundee."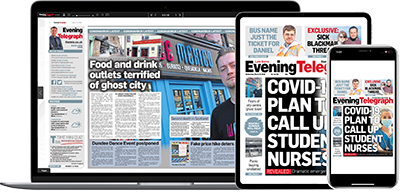 Help support quality local journalism … become a digital subscriber to the Evening Telegraph
For as little as £5.99 a month you can access all of our content, including Premium articles.
Subscribe