Councillor Ken Lynn, chairman of Dundee Health and Social Care Partnership integrated joint board, admitted something had gone wrong with tackling drug deaths.
But he said he hoped it wasn't too late to save those of a certain age group who are particularly susceptible.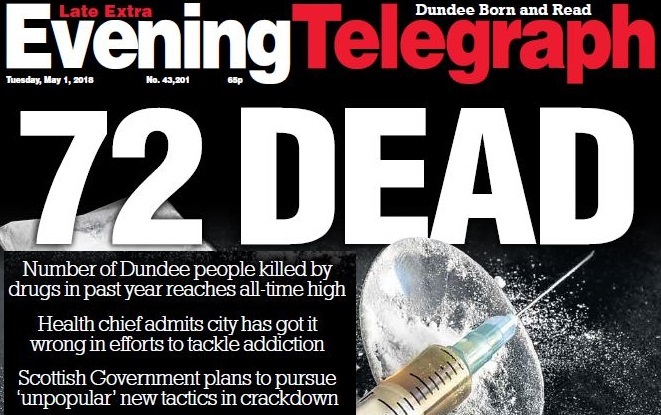 Responding to the Tele's investigation revealing that the number of Dundee people killed by drugs in the past year had reached an all-time high figure of 72, Mr Lynn said: "I think there are a combination of factors which have led to this dreadful statistic.
"There has been a steep rise in the number of deaths attributable, at least in part, to etizolam, also known as fake Valium, and other drugs.
"The statistics also show there is a high and increasing number of deaths in the older age group of users.
"Frankly I think this figure shows existing action is not working, which is why we have established the Dundee Drug Misuse Commission, which will have its first meeting this month. We have the highest level of drug deaths in Europe and clearly we are getting something wrong.
"There are a variety of services working together to help people with drug problems. In addition to this, Dundee Alcohol and Drug Partnership has launched its strategic commissioning plan with approaches targeting prevention, recovery and harm reduction.
"To offer the concrete actions that flow from this document, the commission will meet for approximately nine months with a report to follow setting out a series of recommendations.
"I don't believe this public-facing approach has been adopted elsewhere in Scotland and it's in direct response to the awful statistics — so in that sense, I don't think we can be accused of complacency.
"Addaction, one of the organisations that works closely with drug users and their families, has been distributing Naloxone kits more widely than before to users and those close to them.
"It can reverse the effects of overdose and I am planning to receive training to allow me to be able to administer this life-saving intervention myself.
"Given the disproportionately high level of deaths within the 'Trainspotting Generation' my hope is that it's not too late."
'Tackling this will go beyond police action'
Calls have been made in some quarters for tougher action against dealers in an effort to stop drug-related deaths in Dundee.
Although officers insist they are constantly cracking down on those who peddle drugs in local communities, they say police action alone won't lead to a reduction in the number of people dying from substance misuse.
Suzie Mertes, Partner-ships Superintendent at Tayside Division, said: "Police Scotland acknowledges the death rate is high, both here, and in Scotland generally.
"There is a high prevalence of substance misuse in the city.
"While we continue to carry out enforcement activity through Operation Slate, the means to tackle this extends wider than simply law enforcement and needs a partnership approach.
"The issues around substance misuse and drug-related deaths are complex and difficult to tackle.
"That is why Police Scotland and its partners are working together to support the Dundee Drug Misuse Commission to understand the underlying factors which contribute to substance misuse, to identify what works through gathering the evidence of success here and elsewhere, and to develop innovative initiatives to support those suffering from substance misuse and their families.
"The launch of the Dundee Drug Misuse Commission and the continuing partnership work, along with the support of local and national government, is proof of our commitment to tackling substance misuse in Dundee.
"The complex nature of substance misuse and drug deaths inevitably requires a comprehensive collective response from all community planning partners.
"It is for this reason Police Scotland and our partners are working with the Dundee Drugs Misuse Commission to develop an effective collective and joined-up approach to tackling substance misuse in the city."
Although figures vary from year to year, Operation Slate takes upwards of £1 million worth of drugs off the streets of Tayside every 12 months. Led by intelligence, it often targets high-end dealers.
Dundee drugs crisis: Number of people killed by substance abuse in city reaches all-time high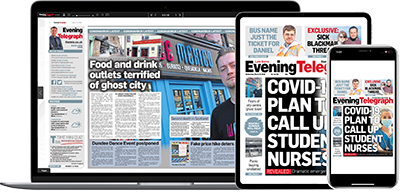 Help support quality local journalism … become a digital subscriber to the Evening Telegraph
Subscribe