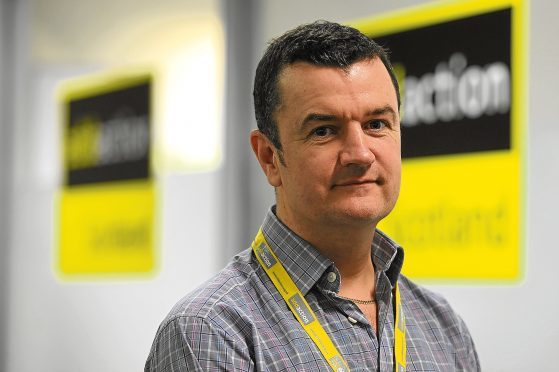 Drugs charities in Dundee have described suspected drugs overdoses in the city as a "dreadful start to the year".
Discovery Dundee and Addaction have both warned drug users about lethal batches of drugs that are thought to be linked to three fatalities in Lochee.
There are conflicting accounts of what drugs were involved in the deaths.
Recovery Dundee, which helps former drug users get back on their feet as they fight addiction, shared information about a powder being sold as heroin, which is actually believed to be the drug Xanax — a powerful benzodiazepine also known as Alprazolam.
The drug is described as looking brighter than the normal heroin sold on the streets, and it has been linked to fatal overdoses in the Borders.
However, Dave Barrie, service manager with Addaction, said he believes the powder may be a combination of purer heroin and Etizolam — commonly known as "street valium".
Mr Barrie said a big problem with clarifying exactly what had been taken by the drug users was that by the time post-mortem results were available, other drugs from the deadly batch were likely to have been taken.
As such, police and other agencies could not say for certain what caused the fatalities, but both charities had anecdotal information from drug users in the city.
Recovery Dundee co-founder Sharon Webster said it was understood two men and one woman had died following overdoses in Lochee. She said: "We have been told that the woman died after smoking drugs, which is very rare.
"I'm sure there has to be other factors but it's quite scary.
"When you're in the throes of addiction you will take what you can get even if there is a risk, but if people are aware of what's on the street they can take steps to be careful."
Mr Barrie also advised extreme caution when using drugs, but added that there is no "safe" way to take any substance sold on the streets.
He said: "From talking to users, we believe these deaths are linked to a strong batch of heroin, and possibly a batch of very small, thick, blue, pellet-like tablets.
"They are being sold as Valium, but are actually Etizolam, and are extremely dangerous if used with other central nervous system depressants like heroin.
"If possible, users should only take drugs with another person present, who could call an ambulance.
"We would advise users who have to take drugs, to use smaller amounts than usual —and we would also urge people to have anti-overdose drug Naloxone, and people present who know how to administer it.
"These three deaths are a dreadful start to the year, and awful for a close-knit community like Lochee.
"Our thoughts are with the families at this difficult time."