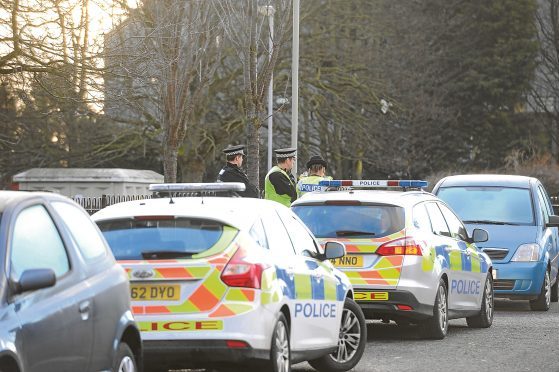 A teenage boy told a jury he witnessed a man accused of a double murder attack two people in a street — from his own bedroom.
The youngster, who cannot be named for legal reasons, said he saw Robert Stratton attack 43-year-old Julie McCash and David Sorrie, 32, through a window in his home in Drumlanrig Drive in the early hours of February 26.
He said Stratton, 43, was chased by Mr Sorrie before Stratton "ran out of options" and stabbed Mr Sorrie.
Prior to this, the boy said he saw Stratton "throw his arm over" Ms McCash, but didn't see him wielding a knife at her, the High Court in Edinburgh heard.
The youth said: "I woke up and heard people shouting and I saw a lot of people in the garden.
"I just saw Rab throw his arm over Julie and the next I saw was people across the road shouting and screaming.
"My eyes were drawn to them and the next thing I knew, Julie was lying on the ground.
"I didn't see if he had anything in his hand."
The teenager was giving evidence during the trial of Stratton, who denies murdering Ms McCash and Mr Sorrie, as well as charges of assault and possessing cocaine.
Stratton's legal team has lodged special defences of incrimination and self-defence in relation to the murder charges.
The teenager added: "David and another man ran after Rab. He was running to his house.
"Rab turned around and they both threw their hands up.
"He was out of options because he turned around to David as if he was going to catch him.
"Rab threw his hand up and had a straight punch forward.
"I saw David fall to the ground and after that I ran through and got my mum and her partner."
Earlier evidence was provided by Stratton's partner, Lee Kinney, via video link.
Jurors heard the 40-year-old was one of those invited to a gathering of friends and relatives of Ralphie Smith, 18, who had gone missing after falling from Arbroath cliffs.
She told defence counsel Edward Targowski QC that things turned sour after she became involved in an argument with 44-year-old Wendy McKinney.
Ms Kinney said she was attacked by some of the group after being asked to leave the house.
She said: "The blows were coming at me from all directions. It happened so quickly.
"I was lying on the ground in the foetal position.
"I was in a very bad state and my head was burst open.
"I was black and blue all over. My hair was congealed with blood."
Ms Kinney claimed she managed to climb back to her feet and return to her home address in the street.
She said that prior to this, she had smashed a glass table and damaged items in the kitchen.
Jurors heard she attempted to contact her father, Norman Kinney, 68, and the police, but had difficulties with both her landline and mobile phone.
As a result, Ms Kinney said she climbed into the loft after fearing people outside were going to attack her.
She added: "I ran upstairs and I was just panicking, trying to phone the police. I was going to say that I had been assaulted.
"I heard lots of screaming and shouting. It was so close I thought it was in the garden, so I ran up to the loft.
"I brought the ladders up, shut the loft and just wanted the police to come and the noise to stop. I was just in a totally panicked state."
Stratton denies all of the charges against him.
The trial, before judge Lord Beckett, continues.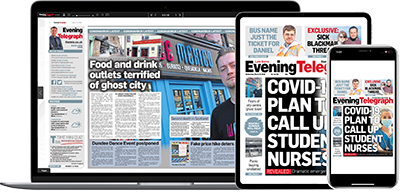 Help support quality local journalism … become a digital subscriber to the Evening Telegraph
For as little as £5.99 a month you can access all of our content, including Premium articles.
Subscribe