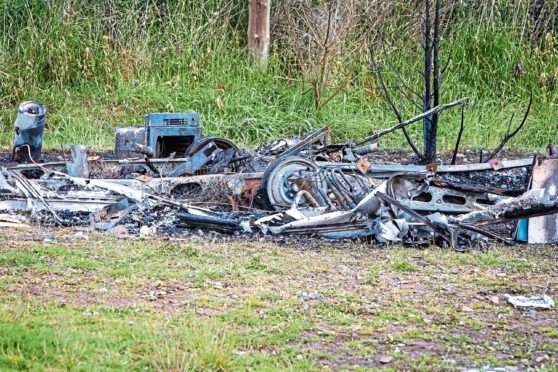 A Dundee dog walker has condemned "mindless thugs" who set fire to and destroyed her caravan.
Anne Whitelaw, 50, was only given the caravan last week to help her with her own dog grooming and walking business.
She set up Lead 'n' the Pack several years ago and now looks after up to 25 dogs a day.
Anne was granted permission by Dundee City Council to use a field just off Jack Martin Way at Claverhouse to run her business and it's there she exercises, trains and grooms the dogs in her care.
She said: "Up until now I have been using a gazebo as cover and shelter.
"Then only last week one of my neighbours said they had an old caravan I could have.
"I was absolutely delighted with it and I took it up to the field only last Wednesday.
"I carried out a few modifications on it to make it suitable for what I needed and was all set to start using it at the start of this week.
"As well as providing a bit of shelter for myself and the others who work with me I was going to use it as a base for things like clipping and grooming the dogs."
However, when Anne went to the field on Monday having collected dogs from their owners, she was shocked and horrified to discover that the caravan had been destroyed by a fire set by cruel vandals.
She said: "I couldn't believe it. All that remained of the caravan was a burned out shell.
"I was so upset. I hadn't even had time in it."
Anne said as well as the caravan being burned out, a little plastic Wendy house that the dogs loved to play in had also been set on fire and destroyed.
Anne has hit out at those responsible for the fire and questioned why anyone would be cruel enough to carry out such irresponsible vandalism.
She added: "There were bottles lying around so we believe youngsters had used the caravan to have a drink in and then set fire to it.
"I would have been quite happy for them to use the caravan to go and drink in if that's what they wanted but I will never understand the need to destroy it."
"On Monday morning I was all set to give up I was so upset.
"Then I decided that I wouldn't let these mindless thugs beat me and I also wasn't prepared to let all my customers and their dogs down."
One of the dogs Anne looks after is one-year-old border collie Archie. His owner Graeme Forbes, 53, said: "I'm so sorry for Anne.
"She does a marvellous job and all the dogs just love going there."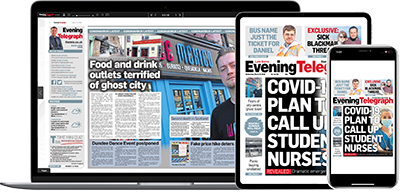 Help support quality local journalism … become a digital subscriber to the Evening Telegraph
For as little as £5.99 a month you can access all of our content, including Premium articles.
Subscribe