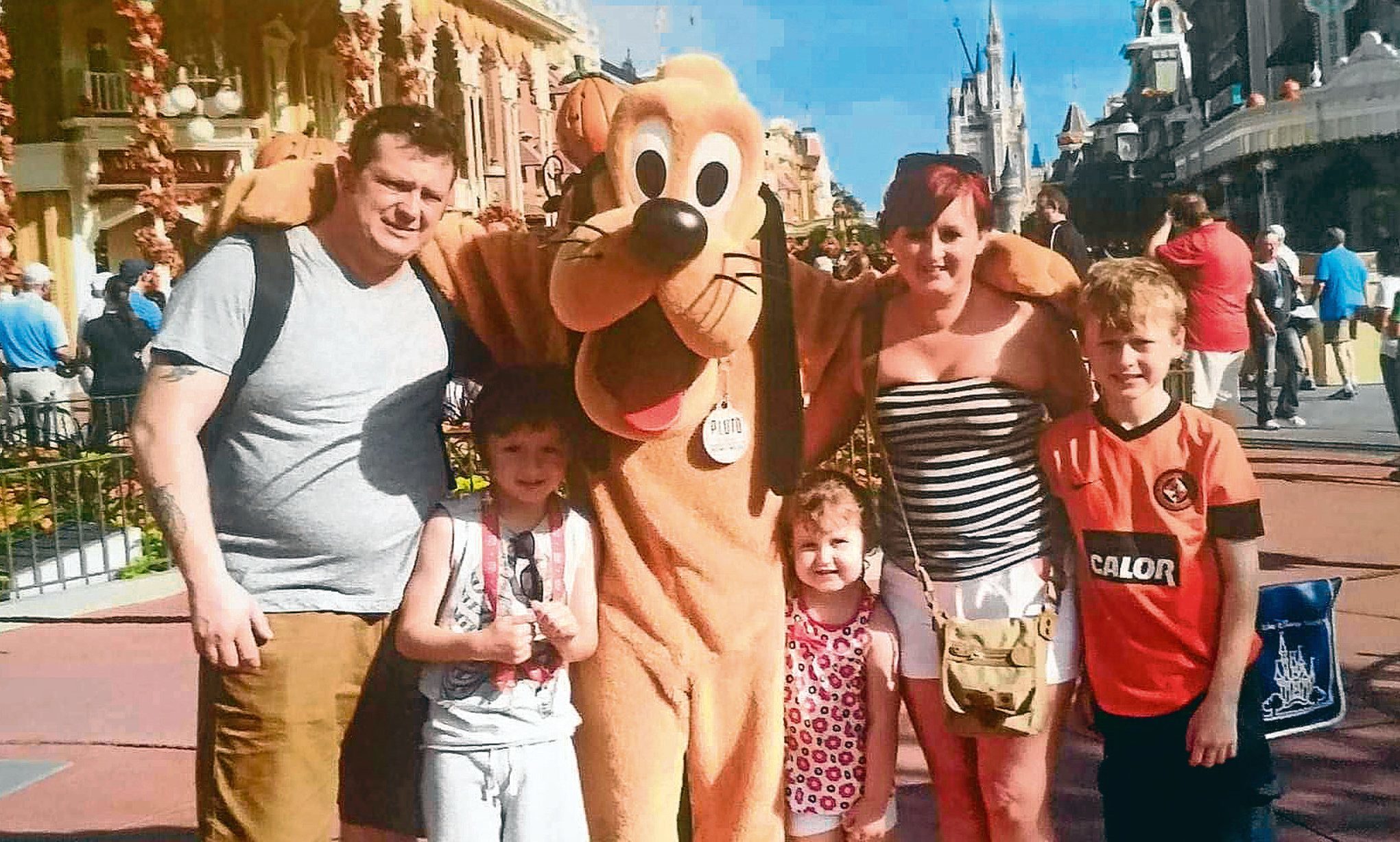 A Dundee man has told how he died twice while on holiday at Disney World.
Lee Strachan was on a "dream" trip to Florida with his wife Jillian, 42, and their three children Callum, 13, Mason, 10, and seven-year-old Caoimhe.
That dream turned into a nightmare on the third day of the fortnight-long break.
As 46-year-old Lee, from Kirkton, rode the bus to Disney World his heart stopped.
He was revived from the dead by staff at the resort using a defibrillator — then his heart stopped again at hospital and he was brought back for a second time.
Lee has spoken of the experience for the first time in an effort to raise awareness of the importance of defibrillators, and says that the holiday actually saved his life.
He said: "We were just sitting on the bus and I blacked out.
"My heart stopped beating and I basically died there and then.
"My wife later told me that she started screaming and shouting for help and the staff at Disney World ran out with a defibrillator and brought me back from the dead.
"I was rushed to hospital and then it happened again.
"The doctors managed to bring me back for a second time.
"I was told by the cardiac specialist that if I hadn't been at Disney World then I would have been dead.
"I am really lucky to have survived, Disney World basically saved my life.
"The only thing that saved me was the fact they had a defibrillator.
"It was a really scary time. There was no warning at all.
"I just felt like I had a cold and then it happened.
"If someone was telling me the story then I wouldn't believe them.
"Most people don't survive it.
"The condition is completely undetectable, I had no idea that it could happen.
"My wife and kids were left on their own — it was a horrible experience.
"My son Mason still struggles with what he saw happen. He can't speak about it and gets upset whenever it is mentioned."
Lee spent 10 days in hospital and was eventually fitted with a implantable cardioverter defibrillator (ICD).
The device, which is inserted just under the collar bone, shocks the heart back into a normal rhythm in the case of arrhythmias — which is when the heart beats too quickly, too slowly or in an irregular pattern.
Lee says he is still recovering from the episode.
He is now set to run a 5k in aid of SADS — a charity that supports families of people who have died from sudden arrhythmic death syndrome.
It also provides funds for defibrillators. He added: "It is always in the back of your mind.
"You always think that something might happen — you are always wary.
"I wear a wristband that says that I am fitted with an ICD so that if someone finds me lying unconscious on the floor somewhere they know.
"Doing the 5k run is a huge step for me. I was too scared to do any exercise before because I was scared that it could happen again.
"It is now three years next month since I was brought back to life.
"If it wasn't for the staff at Disney World having, and knowing how to use, a defibrillator I wouldn't be here.
"It was the only thing that could have saved me.
"I want to raise awareness.
"I think that these things should be everywhere.
"I don't think enough people know about it.
"These things should be everywhere because they can save lives.
"I am so lucky to still be here, there are many people who have died."
People who want to contribute to Lee's effort can visit justgiving.com/fundraising/Lee-Strachan1.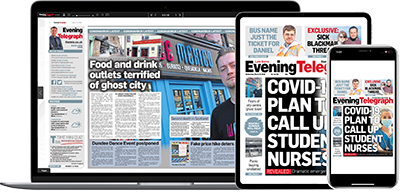 Help support quality local journalism … become a digital subscriber to the Evening Telegraph
For as little as £5.99 a month you can access all of our content, including Premium articles.
Subscribe