From a street food van in London to owning a cheese-mongers in Dundee – it's all happened in just a few years for Hilary and Stephen Barney.
The couple took over The Cheesery on Exchange Street in 2016 when they decided to come back to Hilary's home town after meeting in London.
Hilary said: "I am originally from Dundee and Stephen is from Birmingham but we met when we both worked in London.
"We opened a street food van down there where we cooked from scratch, visited markets and festivals and even travelled to Abu Dhabi with it.
"After three years we knew we wanted to start a family and thought it was time to move back to Dundee but we knew we wanted to stay in the food industry.
"We thought about opening a restaurant or a cafe, but they can be tricky, and after we had worked so closely in the van we wanted to keep that."
A chance conversation led to the pair taking over the lease when The Cheesery's previous owner retired.
Stephen added: "We loved cheese but it was a lot to learn. The former owner Dorothy was amazing, giving us lots of guidance and help.
"It was nice to get that before we started and we also went and made cheese at lots of places around Scotland."
As well as the daily running of the store Hilary and Stephen are working with many local companies during events, which has helped build a profile for the shop.
As well as running the shop, the couple also have a son, Finn, who was born just weeks after they took over the store.
Now they are doing it all over again as they are expanding by opening a new store in Broughty Ferry – and expanding their family with the expected arrival of their baby daughter just weeks before the new shop's opening day.
Stephen said: "We took over a shop on Gray Street which seemed like the natural thing to do as we have made all the improvements we want to do with the Dundee store so we wanted to expand.
"We are hoping to open the new shop in mid-March but that will depend on when our baby girl arrives.
"We don't want to set a date and disappoint the people of Broughty Ferry if we don't open. All of our customers are really fantastic."
Whole new meaning to cheese cake
It isn't just your usual blocks of cheese from this establishment.
It supplies 75 different types of cheese which Hilary and Stephen are happy to talk through to any customers who are perhaps a bit unsure and will also give tasters so customers know they like what they buy.
Some couples even love it so much that they decided to ditch a traditional cake for their big day and have a cheese version instead.
Hilary said: "Cheese wedding cakes have really taken off and are becoming very popular.
"It is lovely working with happy couples and it is nice to have them in for their cheese tastings when they decide what they want.
"Planning a wedding is stressful so it can be like a date for them."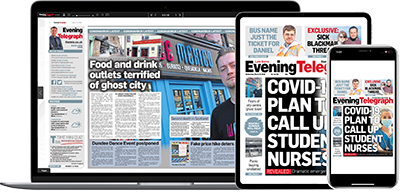 Help support quality local journalism … become a digital subscriber to the Evening Telegraph
For as little as £5.99 a month you can access all of our content, including Premium articles.
Subscribe