A couple from Dundee are seeing a lot less of each other — after losing almost nine stone between them.
Tony Hayes and Edna Moir made it to the semi-finals of Slimming World's Couple of the Year 2018 competition.
Tony and Edna were voted as their Slimming World group's Couple of the Year 2018 by their fellow members.
Following their selection, they were invited to represent Dundee at the national semi-final at Slimming World's head office in Derbyshire in May, but unfortunately, never made the final.
The pair, who attend Dundee Slimming World, believe the secret of their success has been supporting each other, as well as being in the group every week.
Tony, 71, who lost 4st 8lbs, said: "While I'd been feeling uncomfortable about my weight for some time, I never really felt quite ready to do anything about it.
"But as soon as I realised Edna was unhappy with her weight, too, it made sense to try to tackle it together. Slimming World seemed perfect for us.
"We could go as a couple and support each other along the way, as well as benefiting from the support from our group.
"From the outset, we started enjoying healthier home-cooked meals and it definitely wasn't as difficult as I'd expected it to be.
"In fact, we could still enjoy family favourites such as chicken curry, spaghetti bolognese and even chips – we just made healthy swaps, like switching to lean cuts of meat and using low-calorie cooking spray instead of oil.
"The change in both of us has been remarkable – it's like we have a whole new lease of life."
Edna, 76, who lost 4st 4.5lbs, added: "I must admit, it was almost a bit of a relief when I discovered Tony was feeling down about his weight, too.
"We're making healthy changes together to give us both a brighter future – and that's an amazing feeling.
"We've also become much more active.
"We've taken up walking regularly and after a year, we even took part in a 5k run for the Stroke Association.
"We already feel like winners because we've won the biggest prize out there – we feel great and we know we've got a long, healthy, happy life to look forward to together now."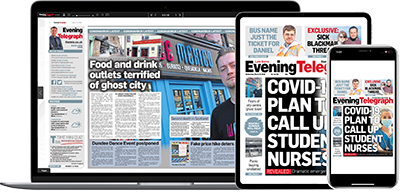 Help support quality local journalism … become a digital subscriber to the Evening Telegraph
Subscribe