It's September, a balmy 16C outside and our overnight temperatures are barely dipping into single figures.
There are still leaves on the trees, and it's weeks yet until the clocks go back to signal the end of British Summer Time.
But in one house in Whitfield, it's already December — as a couple keep up a tradition that they've held for nearly a quarter of a century.
Valerie Heath and her husband Robert are putting the finishing touches to their very own winter wonderland — three months early — complete with tree and tinsel.
The couple, who have just celebrated their 43rd wedding anniversary, have been organising their festive bonanza since August.
They said they were "delighted" to be getting into the Christmas spirit while others are still hoping to get a use out of their summer shorts.
Valerie, 68, who moved to Dundee from Rochdale more than 30 years ago, said: "I've made some additions to this year's decorations — I usually spend £40 each year to add to the ones we've got.
"Some of the decorations normally have a bit of wear and tear so I need to replace them."
The couple say they've had an extra reason to put their decorations up early this year.
Valerie said: "Robert hasn't been keeping great health recently and is going in for surgery on Monday, so we have put them up slightly earlier than usual, but it lifts his spirits."
The pair have been celebrating Christmas early for 24 years now, and say they have no plans to halt the tradition any time soon — despite the warm weather and sunshine the city has enjoyed this week.
Valerie said: "It takes a couple of days to put everything up but it has become a part of life now, to put up the decorations at this time of year, and we are always sad when we have to take them down."
Robert, 66, said: "It is warm outside but it doesn't feel strange to be sitting in here with our Christmas decorations — as it is part of the tradition."
The couple even completed their Christmas shopping super early, in January this year, when they picked up bargains in the sales.
The goods are already wrapped under their tree, ready for opening in 13 weeks.
But they'll bring their festive fun to an end on Boxing Day.
Valerie said: "It takes a few days to take them down.
"We are always so sad when they come down as they make the living room so empty."
Meanwhile, Robert had a suggestion for the popular Oor Wullie Bucket Trail, which came to an end earlier this month. He said: "They should design one dressed as Santa and that would complete the set."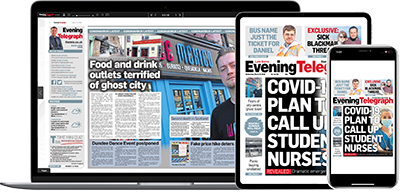 Help support quality local journalism … become a digital subscriber to the Evening Telegraph
For as little as £5.99 a month you can access all of our content, including Premium articles.
Subscribe