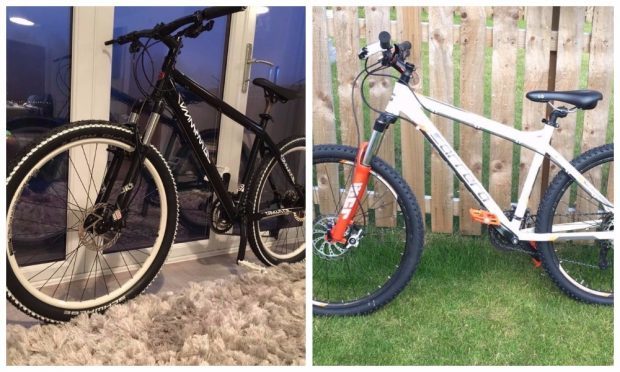 A Dundee couple have blasted thieves who broke into their shed and made off with cherished mountain bikes.
Gillian and Michael Traynor had been enjoying a fireworks display at their Adam Drive home, near Craigowl, on Monday.
They went to bed as normal, but when mechanic Michael, 39, woke up for work the next morning, he discovered the shed had been ransacked and their customised bikes worth more than £2,000 had been stolen.
Gillian, 33, who works part-time as a teacher, told the Tele today they were both "completely devastated" following the theft.
They are offering a reward to anyone who is able to help get the bikes back to them.
Gillian said: "We are absolutely devastated — we really loved those bikes.
"My husband spent hours using it and I recently got into it too.
"He goes away camping with it. It is something he has been into for a while.
"The bikes are worth about £2,000, but we have customised them, so they are worth even more than that.
"We have both been really enjoying mountain biking and there is no way that we can afford to replace both the bikes.
"We just can't believe that this has happened.
"You never expect something like this to happen to you.
"My husband noticed that the shed was lying open and part of the fence had been knocked off.
"Then we noticed they had actually lifted up the fence off its hinges. There was a bolt at the top that they had cut off."
One of the bikes stolen was a Black Commencal with white-striped Rapid Rob tyres.
The other was a Carrera Kracken with custom-painted orange handlebars.
Gillian said she doesn't know exactly when the raid took place, but that it had to have been between 9pm-6am.
She took to social media to appeal for the return of the bike, but is yet to receive any information about the theft.
Police Scotland said it was making inquiries into the incident.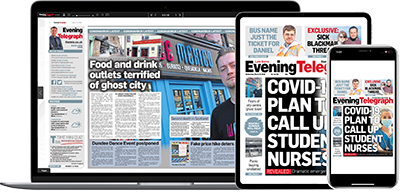 Help support quality local journalism … become a digital subscriber to the Evening Telegraph
For as little as £5.99 a month you can access all of our content, including Premium articles.
Subscribe