A Dundee councillor investigated over an alleged anti-Semitic Facebook post has been given an official warning by Scottish Labour.
George McIrvine, who represents the Coldside ward, shared a post in April which made reference to the Rothschild banking dynasty, a common target for anti-Semitic conspiracy theorists.
After receiving a complaint, Scottish Labour launched an investigation and Mr McIrvine subsequently apologised.
He said he had intended the post to be a comment on international banking, not the Jewish Rothschild family.
In response to the outcome of the investigation, Mr McIrvine said he had "learned his lesson".
"I fully accept and adhere to the decision made by the party," he said.
"My sharing of a post on social media was never intended to offend anyone, if I have, then I offer my sincere apologies.
"I have learned my lesson and would like to put the matter behind me in order I can focus all my attention on serving the constituents of Coldside and the people of Dundee."
The party had been criticised by complainer Howard Barclay for its "slow" response to the allegations.
Mr Barclay, who complained to the party four months ago, said he had been notified of the outcome of the investigation.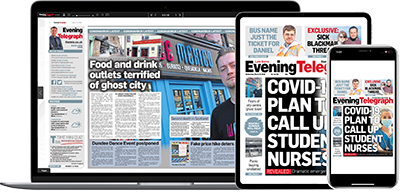 Help support quality local journalism … become a digital subscriber to the Evening Telegraph
For as little as £5.99 a month you can access all of our content, including Premium articles.
Subscribe