A Dundee councillor has claimed a lack of funding is to blame for the many Christmas trees littering the city's streets – weeks after the festive period ended.
A number of trees have been dumped following the end of the Christmas period – but they have not yet been uplifted by Dundee City Council, and residents have hit out at the eyesore.
Trees have been spotted on Arbroath Road, Panmure Terrace, Perth Road and Strathyre Avenue and West End councillor Richard McCready – whose ward covers Perth Road – has called for the mess to be dealt with.
He said: "I've had several complaints that there are Christmas trees lying around the pavements and I've also seen many for myself that have been chucked out and left lying.
"This is one area where we are seeing lack of funding affecting services. As a city council we need to put a little bit more effort into the collection of trees after Christmas.
"It's one of these things that's easy to predict. We know trees will need disposed of after Christmas and we need to be geared up for that."
One local resident, who lives on Arbroath Road, said: "Christmas was a few weeks ago now so I am a bit surprised to see so many trees suddenly appearing at the side of the road.
"They are not hugely in the way but they are a bit unsightly and I hope they are not just going to be left lying about indefinitely.
"The people who can afford to purchase real trees – and some of them are absolutely huge – are surely responsible enough to make sure they are disposed of properly."
Maryfield councillor Lynne Short has encouraged the public to dispose of their trees responsibly.
She said: "The council ran a big campaign on social media explaining how to dispose of trees. I would encourage people to go online and find out more, so we don't have them lying around the streets."
The council states on its website that pick-ups for real trees, which are recyclable and shredded to reduce compost, are available.
Residents have to fill in an online form for the pick-ups but can also take them to local recycling centres.
Kevin Cordell, the council's convener of neighbourhood services, said: "You can apply to have your Christmas tree uplifted and you will be given a specific collection day.
"If people don't do that then your tree won't be collected.
"You can also take them to our recycling centres at Baldovie and Riverside."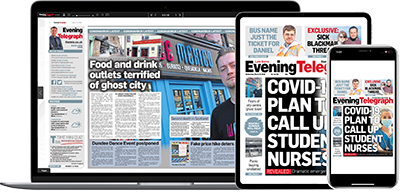 Help support quality local journalism … become a digital subscriber to the Evening Telegraph
For as little as £5.99 a month you can access all of our content, including Premium articles.
Subscribe