Plans to transform a former Dundee bike shop into a prosecco and gin bar have lost their fizz.
Craig Douris wanted to breathe new life into the disused World of Cycles premises on Broughty Ferry's Gray Street with a cafe that would sell the popular beverages.
But despite being under consideration by council planning chiefs, the application has now been withdrawn.
Architect Paul Doig, who tabled the plans on Mr Douris's behalf, said the decision was taken after it became clear Dundee's over-provision laws made it unlikely the premises would be granted an alcohol licence.
Mr Doig said: "We'll be coming back with another plan, although we're not sure what just yet.
"But it won't be a gin bar, that much is clear."
New rules introduced by Dundee City Council this year make it harder for new shops and pubs to sell alcohol, as they have to prove they won't harm public health in doing so – or face having their application rejected.
Mr Douris previously told the Tele he wanted to bring "something new and exciting" to Broughty Ferry.
But Sandro Paladini, from the Broughty Ferry Traders' Association, said the area was already well served by other pubs and bars.
Mr Paladini said: "This particular application is an interesting and creative one, however, I believe that Broughty Ferry is very well serviced already for wine bars and hospitality.
"Beyond that, this is a good corner unit in one of Broughty Ferry's prime locations and I am sure there will be interest from another business.
"I believe a good book shop would be an excellent addition."
Local councillor Craig Duncan said he would welcome a reapplication for the development but agreed that the Ferry is not suffering from a lack of licensed premises.
He said: "I think the Ferry at the moment does have a choice of venues serving alcohol – whether that is pubs or restaurants.
"It could be that they just don't think the idea has enough legs or it's not a big enough space.
"I think there's already a good range but if something is niche or novel then there might be a demand for it."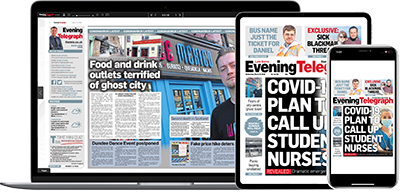 Help support quality local journalism … become a digital subscriber to the Evening Telegraph
Subscribe