The leader of Dundee City Council is to spend the next few days "making a case" to persuade Michelin to keep a foothold in the city.
John Alexander was speaking to the Tele following a second meeting on Monday of the Michelin Action Group.
He said: "The meeting built detail around the possible future uses including the proposal that Dundee and Angus College could open a new campus on the Michelin site.
"The most realistic angle for the future of Michelin is around the repurposing of the plant.
"We've got a relatively limited window to make a strong case to senior executives from Michelin and we'll not be wasting a single minute.
"The meeting also discussed in detail potential use along the lines already publicly discussed, in terms of other manufacturing uses, research and development, skills and training and work around innovative technologies and processes.
"The action group will now home in on these in addition to the other discussions taking place, to scope out the viability and scalability of potential options.
"We're clear that our work is to get the best result possible, working with Michelin and the trade unions in particular.
"We've been clear from the outset that, and this is putting it mildly, we have a significant number of challenges and hurdles ahead of us.
"Equally, we've been clear that this will not deter us from trying to get the best result possible for the workforce and for Dundee generally."
Principal of the college, Grant Ritchie, made the case for creating a "skills revolution" by opening a campus at the site which could act as a regeneration point.
He said: "I'd like to rebuild the old campus at the Baldovie site as a catalyst for a skills-based revolution."
The action group announced yesterday that it hopes to have completed proposals to put a business plan to Michelin by Friday.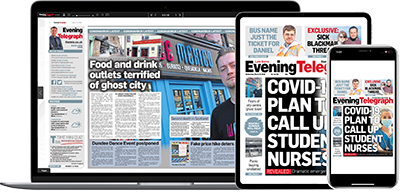 Help support quality local journalism … become a digital subscriber to the Evening Telegraph
For as little as £5.99 a month you can access all of our content, including Premium articles.
Subscribe