Council chiefs have begun talks over renewing funding for Dundee's air link with London.
The local authority, along with the Scottish and UK governments, signed a deal in March 2017 to provide the Dundee-Stansted route with backing of nearly £4 million as it was not commercially viable on its own.
But funding runs out in March this year so council chiefs are in talks to extend the deal, saying it is "vital" that the route continues.
A spokesman said: "The air service between Dundee and London is vitally important to the city and wider region. In recognition of this, the council has been discussing its future with UK and Scottish government funding partners, including how to support continued development of the route.
"Decisions in terms of funding will be made by all partners.
"The importance of Dundee Airport is recognised and reflected in the Tay Cities Deal heads of terms agreement which includes up to £9.5m of support for investment in infrastructure and route development."
A Scottish Government spokesman said: "We acknowledge the importance of the Dundee to London air service and this is reflected in the support we have made available since it began.
"The next few years will be an important period for the service and we are committed to working with Dundee City Council and other partners to realise its full potential."
A spokesman for HIAL, the airport's operator, said: "We welcome and support the efforts being made to secure funding.
"We continue to work with our partners to maintain sustainable air transport links and develop commercial routes that can contribute to the economic prosperity of the region."
It has not been revealed how any new deal could affect efforts to link Dundee with Heathrow when its third runway opens.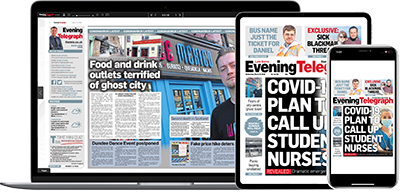 Help support quality local journalism … become a digital subscriber to the Evening Telegraph
For as little as £5.99 a month you can access all of our content, including Premium articles.
Subscribe