The number of Airbnb-style lets in Dundee has grown by 400% in under three years, figures have shown.
Data provided to the Tele show 264 were available in December, up from 52 in June 2016.
The most properties ever available in Dundee was 362, which were advertised in July last year during The Open.
Demand peaked in September, when 68% of available properties were booked by guests keen to see V&A Dundee open its doors.
Dundonians have been sharing their reasons why they have taken to letting out their homes.
Stuart Calder, 48, launched an Airbnb in Stobswell last October and said business has been booming.
He said: "My partner and I decided to start it because we have a townhouse with three spare bedrooms. It's going well.
"My partner is Spanish and we have a lot of visitors from Spain. I work from home in clinical research and it makes it easier to run the business."
Booking a spare room or a flat short-term is now seen as a direct alternative to a hotel and companies such as Airbnb and HomeAway have capitalised on this by providing booking tools for those renting out.
Among those letting out spare rooms for extra income is local man Darren Fraser, who has been on Airbnb for four years.
He said: "People are now using Airbnb lets like a hotel. Before it was usually students looking for cheap accommodation.
"Now you're getting people visiting Dundee for a day as part of a trip around Scotland, or visiting family and things like that.
"The Open in Carnoustie was good – I had people getting in touch a year in advance to book.
"It's good if you have a spare room to rent out but there's a lot of work to being a good host."
Neil Danskin rents flats out on Airbnb – but has been a traditional landlord for longer.
He said: "The growth has been quite steady. Like many people I was expecting a 'V&A boom' but it's actually all sorts of guests.
"Compared with standard tenancies it's a lot more work – I'm very fortunate to have people around me to help.
"You get the odd inquiry which sounds like a party weekend and obviously needs to be turned away – but guests tend to be first class.
"It would always be my first choice now (when travelling)."
The numbers were pulled together by data firm AirDNA.
Chief executive Scott Shatford said: "Travellers now have more choice of cheaper, unique accommodation. This trend also presents opportunities for savvy short-term rent entrepreneurs."
Short-term lets have attracted criticism in cities like Edinburgh because properties have been snapped up to let out – reducing overall home ownership rates.
There is one Airbnb listing for every 11 residents in the capital, according to a recent study.
Council chiefs there are considering drawing up a register of Airbnb landlords to keep them in check, and councillors this week voted to impose a "tourist tax" on hotels and holiday lets.
The transient visitor levy (TVL), as it is known, will come into effect when enabling legislation is passed by parliament.
In Dundee, the issue of holiday lets is a different story.
Dundee City Council says it currently has "no concerns". Council leader John Alexander said there are "no immediate plans" for a levy.
He added: "Edinburgh is in a very different position, with very different challenges, but it's fair to say we're involved, alive to and interested in the conversation over the medium to longer term."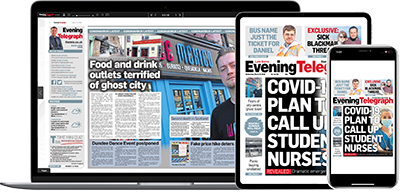 Help support quality local journalism … become a digital subscriber to the Evening Telegraph
Subscribe