Dundee City Council could be forced to cut back services and save up to £127 million over the next three years under contingency plans drawn up by finance chiefs.
In a report set reviewed by councillors last night, corporate services boss Greg Colgan says the council has to plan for funding being lower than expected.
Mr Colgan also warned that "rising demand, increasing costs of services and reduced central funding" will likely put a strain on services.
His report sets out four different scenarios for the next three years, ranging from the council's grant remaining steady to that amount being cut by 1%, 2% or 3%.
It will mean the council will have to save anywhere from £76.7m to £127.2m between 2019/20 and 2021/22, depending if the government cuts funding, and by how much.
The plan comes following a recommendation from the Accounts Commission that councils across Scotland draw up long-term plans in case they get less cash than hoped for.
Dundee City Council is also set to lose out on some other financial support grants from 2020/21, which Mr Colgan has also incorporated into the plans.
Mr Colgan concluded: "The council is facing a significant challenge to deliver a balanced budget over the next three years and beyond."
A Scottish Government spokesman said: "Despite continued UK Government real terms cuts to Scotland's resource budget, we have treated local government very fairly. In 2018/19, councils will receive funding through the local government finance settlement of £10.7 billion. This will provide a real terms boost in both revenue and capital funding.
"Dundee City Council will receive £318.4m in local government funding in 2018/19. Taken together with the council's decision to increase council tax by 3%, Dundee will have an additional £11.7m to support services compared to 2017-18."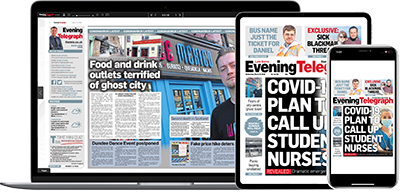 Help support quality local journalism … become a digital subscriber to the Evening Telegraph
For as little as £5.99 a month you can access all of our content, including Premium articles.
Subscribe