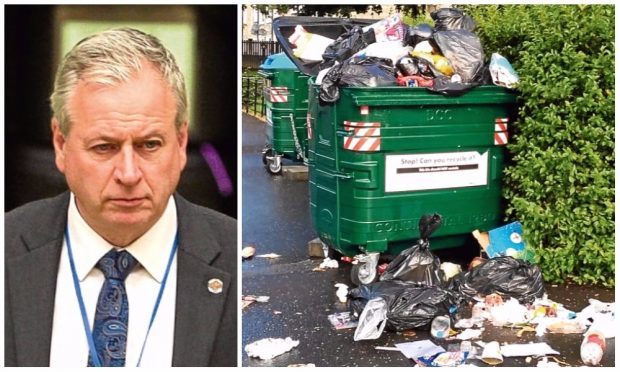 Council bosses have admitted they got things "quite wrong" and have apologised over Dundee's bins crisis.
Admitting the local authority has received thousands of complaints about overflowing bins following the roll-out of a new collection scheme earlier this year, chief executive David Martin and the lead officer responsible for bins collection, Elaine Zwirlein, also issued formal apologies to city residents.
Mr Martin said: "We got things quite wrong and it is important to apologise for it.
"The council has high expectations of our services and I think when things go wrong it is important to say so, acknowledge it and try to put it right.
"We'd like to thank residents for telling us where things were going wrong and where they were less wrong.
"The measure of a good and confident public organisation is to put its hands up.
"We are trying to explain to members where things were wrong and are trying to learn from it."
Neighbourhood services convener Kevin Cordell also admitted there had been issues and mistakes.
He said: "The service fell far short of required standards but the problems are now being ironed out and the recycling rates have already risen."
He added that the latest phase of the roll-out had not been to the standard expected or that council taxpayers deserve.
"Everyone in the council shares the frustration of people in our communities.
"We recognise the importance of recycling and hope recent events swill not put people off."
A report before the council's neighbourhood services committee revealed that thousands of properties had not had their rubbish collections during the first week of the roll-out because suppliers had failed to deliver hundreds of bins on time.
The committee also heard that bin men were abused in the street and councillors were "chased" by residents wanting to complain.
REVEALED: The problems behind Dundee's recycling problem which saw rubbish scattered across streets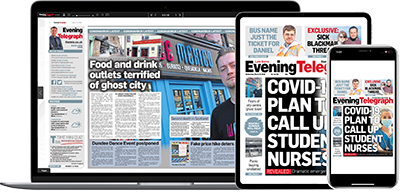 Help support quality local journalism … become a digital subscriber to the Evening Telegraph
Subscribe