Organisations on both sides of the tobacco divide have called on Dundee City Council to support employees who want to quit as best they can.
Several bodies have expressed concern over the inclusion of e-cigarettes in the blanket ban which came into effect on Thursday.
The Scottish Government's official stance on e-cigarettes, agreed with medical experts last year, is that vaping is "definitely less harmful" than smoking tobacco.
The statement concludes: "It would be a good thing if smokers used them instead of tobacco."
Smokers' rights group Forest has accused the local authority of "over-reaching" with its powers over workers.
Simon Clark, director of the group, said: "Threatening employees with disciplinary action if they smoke during work breaks or while they're working out of doors, out of uniform and between locations, is tantamount to bullying.
"A ban on vaping is even worse. There is a clear distinction between 'conventional' smoking and the use of e-cigarettes and council policy should reflect that."
He added that, if the council genuinely wanted to help smokers quit, it should relax the policy to allow the use of vaping devices.
"Switching to e-cigarettes has helped a large number of smokers who are trying to quit," he said.
"If there is a genuine desire to help employees stop smoking, they should be encouraged to vape.
"They should not be threatened with the same penalties they face if caught smoking."
Anti-smoking body Ash Scotland has said that it "hopes and expects" the city council will properly support workers who want to quit.
Chief executive Sheila Duffy said: "E-cigarettes are a developing area of policy and employers have taken different approaches.
"Our hope and expectation is that the employer would provide the support required to help employees implement the policy successfully."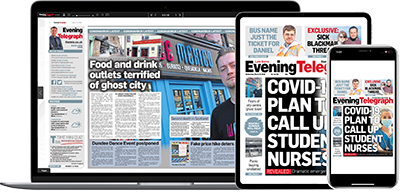 Help support quality local journalism … become a digital subscriber to the Evening Telegraph
Subscribe