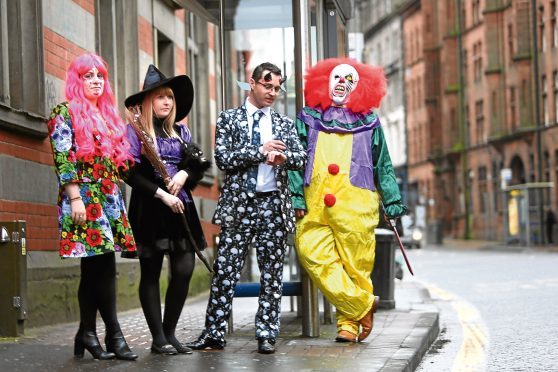 He might be one of the most polarising world leaders in history, but he's the Trump card for one Dundee store.
With Halloween fast approaching, costume shops across Tayside have been getting ready for the big day.
This year's hot outfits include clowns, a comic book villain and a a certain Twitter-friendly US president.
David Farry, owner of Yvonne's, based in the city's Seagate, said: "We have sold out of Donald Trump outfits.
"There were costumes, masks and wigs — the wigs sold really well.
"It is starting to get crazy. Everyone leaves everything to the last minute.
"We have a student lock-down on Thursday — this is the biggest day of the year for us.
"We are having security for it as there are always way too many people. It's stressful but it's quite good fun.
"We get everyone into costume and make-up. All the little girls want to be (DC Comics character) Harley Quinn."
Clowns are proving popular again following on from last year's craze.
David said Pennywise the clown — who recently featured in the film It, an adaptation of the Stephen King novel — was a popular choice for youngsters, despite the movie being rated 15.
David added: "They shouldn't have seen the movie but they all want to be him."
David added: "Halloween is getting bigger and bigger every year.
"I think people really want to look good. Kids especially want their costumes to look good."
Dawn Lennon, owner of Perth's One Stop Fancy Dress Mascot Hire, said: "For adults, the costume from the film Saw and clowns are very popular.
"I think movies influence what sells well.
"Sugar skull paint from Day of the Dead is quite popular with the kids."
She added: "I think a lot of people like to go out.
"It used to be more for children but now I think adults are really getting into it.
"Some people really want to go all out with lenses, blood and scars."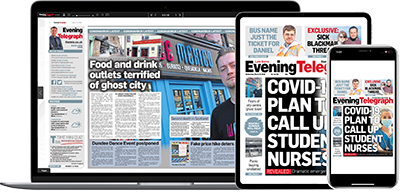 Help support quality local journalism … become a digital subscriber to the Evening Telegraph
For as little as £5.99 a month you can access all of our content, including Premium articles.
Subscribe