The founder of a Dundee comic company has ambitious plans for his business – despite being just 10 years old.
Drew Marr, of Gold Lion Comics, is set to release the second instalment of The Rehabilitation of Doctor Eye next month.
The 10-part series is based on the life of a supervillain, Doctor Eye, who changes to become a force for good.
Drew, who started P6 at Blackness Primary on Tuesday, already boasts a number of local stockists including Groucho's and Ahoy Comics as well as Forbidden Planet in Edinburgh.
He said the creation of Doctor Eye had been inspired by Thunderbirds character The Hood.
The next instalment of the comic featuring the character which Drew created more than five years ago is set to hit the stands next month.
Those looking to fully immerse themselves in the series can also pick up some branded merchandise, including T-shirts.
Drew said: "I plan to finish the 10-part series by the time I'm in the second year of high school.
"I've adapted the character of Doctor Eye over the last five years. I love superhero stories, especially the mastermind villains.
"Doctor Eye is a villain who is trying to avenge the death of his parents. As the story evolves, he starts to become a force for good."
The youngster said that, while enjoying the current comic stars, he has a place in his heart for older characters, including those in The Beano.
Drew's proud mum Kelly-Ann said: "Drew loved his recent visit to the Beano office and also met the editor, Mike Stirling.
"Drew has such a good imagination. He launched the comic at DeeCon where he sold his first issue and some of the branded merchandise.
"The comic is printed locally and the money he has made in sales has gone back into the business, including print runs.
"He also has a second creation called the Drunk Genie, along the lines of a cartoon strip, which is available to buy in the Giddy Goose in the city."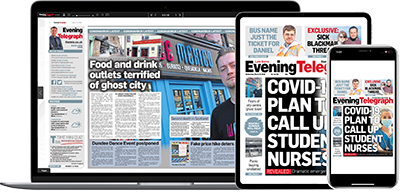 Help support quality local journalism … become a digital subscriber to the Evening Telegraph
Subscribe