A fresh round of cuts to public services could be on the horizon as Dundee faces an eye-watering £6 million budget black hole.
The city council leader has warned difficult decisions may have to be made following the "chaotic" past 10 months of the coronavirus pandemic.
John Alexander said the council had been forced to spend "tens of millions of pounds" more than it would, mainly for PPE and other Covid-19 related safety measures.
Half of the debt comes from Leisure and Culture Dundee, the arms-length body which operates the city's libraries, swimming pools and other leisure facilities, Mr Alexander said.
Just last week, a row broke out between the leader and opposition councillor Michael Marra after it emerged staff at the LACD-run Lynch Centre were told to relocate to Caird Park, raising questions over the facility's long-term future.
Mr Alexander spoke to the Tele ahead of a meeting of the full council on Monday, where a report on the council's finances will be discussed.
"The last 10 months have been chaotic and difficult for everybody," said Mr Alexander.
"If you look at what we've had to do for food insecurity, for example, where we have worked with charities in every single community to try and help people who are on the breadline.
"We've also been looking at things like increasing hardship funds, because people are finding it really difficult right now, so there's a whole series of measures that we've introduced, because of Covid-19.
"Practical things – that costs money, it costs staff time, and that all has an impact."
Six months ago, the council was looking at a £30m deficit, he said, but changes the council had made, Scottish Government funding, and the furlough scheme, had helped reduce that to around £6m.
Discussing the deficit, he said: "We're continuing to speak directly with the Scottish Government, who are continuing to lobby the UK Government in terms of Barnett consequentials for additional funding and flexibility as well.
"I'm hopeful that this will solve this year's issue, but if it doesn't, we'll have to make some difficult decisions, which is not something I relish, and nobody else does either, across the political spectrum."
Mr Alexander said there were areas that the public picked up on if budgets were cut, such as grass cutting and bin collections.
Public invited to have their say on council's plans to boost biodiversity in Dundee by allowing grass to grow longer
But he said the authority only had a finite resource, and had to prioritise where to use the limited cash it has to spend, which meant "difficult decisions" may have to be made.
He added: "And I'm fairly certain, going into the next financial year and the position that we're in, we're going to have to make some difficult decisions again, although I hope that won't come to pass, I think we've got to prepare for that."
The council leader also said over the past 10 years there had been voluntary redundancies and people opting to take early retirement, and that still remained a means of saving money.
He said: "The key word is 'voluntary' – people are coming to the council to ask for that. We do have an active scheme just now and that's open to members of staff who want to go early, and I think we've probably seen a slight increase in the number of people applying to that.
"And, part of that is driven by Covid-19.  Because people have been working at home, or they've been working flexibly, there's probably people who have been thinking about their work/life balance and have decided that, for them, now is the time that they want to spend more time with their family."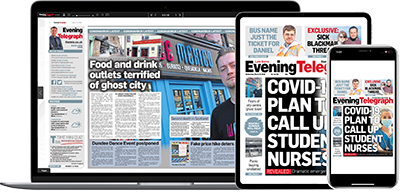 Help support quality local journalism … become a digital subscriber to the Evening Telegraph
Subscribe