Ambitious plans have been outlined for a cafe and cooking school at a Dundee butcher shop.
Scott Brothers Butchers is hoping to adapt another level of its Nethergate store as part of a new venture.
And co-owner Scott Jarron said the forthcoming opening of the V&A has been a factor in the decision to transform the business.
Scott said the firm – which has three retail premises across the city – has been planning the changes for three years.
He said: "We are planning to turn the first floor of the business into a cafe with the meals served related to food on offer within our store.
"With the cooking school element, we felt we had a social responsibilty to help the next generation of youngsters to learn cooking skills.
"We also intend to work with local charities and schools on this to promote the benefits of healthy eating.
"We will need to close the store and realistically we would be starting work in February or March."
Scott added that the plans are at a very early stage.
And he explained how the opening of the V&A had influenced the decision to transform the business.
He said: "There will be a significant amount of investment in the premises – within the range of £400,000-£500,000.
"Given the location of our business in the city centre and the imminent opening of the V&A, we feel there is a great opportunity to offer something different."
Dundee-based architect Jon Frullani, who has been working on the project, described the venture as "exciting".
He said: "It's great to see another use of a city centre premises that adds diversity to what's on offer."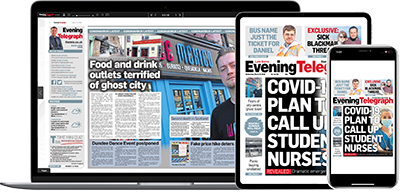 Help support quality local journalism … become a digital subscriber to the Evening Telegraph
For as little as £5.99 a month you can access all of our content, including Premium articles.
Subscribe