Dundee City Council's children and family services convener has resigned in the wake of a number of social media scandals.
Councillor Gregor Murray, representative for the North East ward, said today they were taking a step back in the light of using language "inappropriate" for someone in their position.
The conduct on social media, the councillor conceded, had not been "handled…well in the slightest".
Council leader John Alexander said he had accepted Gregor's resignation, adding: "I think it's only right they have apologised."
Councillor Stewart Hunter is set to be reappointed children and family services convener at the next meeting of the city council on August 20, with Councillor Anne Rendall lined up to replace Gregor as equalities spokesperson.
Gregor, who identifies as gender non-binary and uses the "they" pronoun to refer to themselves, has been involved in a number of social media rows in recent months.
In July last year, they referred to the political equality group Women 50:50 as "absolute roasters", and was slammed by a number of the group's supporters including then-Scottish Labour leader Kezia Dugdale.
And last month, the councillor – who will continue to represent the North East – branded a controversial group of lesbian activists "utter ****s" after they gatecrashed a parade at London Pride.
Gregor Murray's resignation to Dundee City Council leader John Alexander in full:
Dear John,
As you are aware, the last few months have been extremely tough personally, and as a consequence, my own mental wellbeing is not where it should be. As well as issues surrounding my personal life, I have also been subjected to a vicious and sustained string of abuse across various social media channels, a small fraction of which you have witnessed.
This has led me to make a number of wrong judgements in communicating with people who campaign against my fundamental human rights. I have not handled this situation well in the slightest. I have used language that is inappropriate for someone in my position, which is causing an unnecessary distraction from the fantastic work that this administration is doing for the city. The points that I have been trying to make have been lost due the ways in which I have expressed them, and I feel as though I am not being a helpful member of your administration or of the LGBTI community.
Therefore I believe it is in the best interests of the administration, my constituents, our party and my own health if I took a step back at this time, in order to resolve my own issues. Please accept my resignation as Convener of the Children and Families Service Committee, and as spokesperson for Equal Opportunities.
It has been an honour and a privilege to fulfil these roles for the past year, and I hope that the passion and positive contributions that I have brought will not be overshadowed by the circumstances in which I depart from them. From my first time sitting in the conveners seat, when we scrapped tuition fees for music lessons, to my most recent appearance when we discussed how far we have begun to close the poverty-related attainment gap, I believe I have been dedicated to making Dundee a fairer and more inclusive place to live.
But as the only openly trans person elected in Scotland, it has not been easy dealing with the sustained and vindictive nature of some of the personal attacks and threats to my life that I have received over the past few months, and I must thank you for all of the time and support you have given to me. I would never have achieved half of what I have without your continued belief in me.
While many write me off due to my age or gender identity, you put your trust in me, and I apologise on a deeply personal level if I have disappointed you in this regard.
Yours aye,
Councillor Gregor Murray
'Utter ****s': Dundee council children's convener under fire over latest foul-mouthed Twitter rant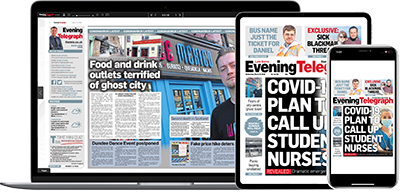 Help support quality local journalism … become a digital subscriber to the Evening Telegraph
Subscribe