Dundee's education convener was "absolutely right" to resign following a number of rants on social media, Labour's schools representative has said.
Councillor Gregor Murray resigned as children and family services convener and equalities spokesperson on Friday.
The North East representative said their conduct was causing an "unnecessary distraction" from the work of the council.
Their resignation letter read: "I believe it is in the best interests of the administration, my constituents, our party and my own health if I took a step back at this time, in order to resolve my own issues.
"It has been an honour and a privilege to fulfil these roles for the past year."
The Tele understands no further comment will be made by Councillor Murray and that council leader John Alexander has accepted their resignation.
Georgia Cruickshank, Labour's children and family services spokeswoman, said the escalating rows had meant the departure was inevitable.
She said: "It is absolutely right that Gregor has stood aside. It would have been detrimental for them to continue in light of what has gone before."
Councillor Murray, who identifies as gender non-binary and uses the pronoun "they", has been involved in a number of social media rows in recent months.
Last year, they referred to equality campaign Women 50:50 as "absolute roasters", earning criticism from members including then-Scottish Labour leader Kezia Dugdale.
And in July they branded a group of lesbian activists "utter ****s" after they gatecrashed a London Pride parade.
Councillor Murray will continue to represent the North East ward as the only openly trans person elected in Scotland.
Mr Alexander said that, while he would not defend Councillor Murray's conduct, they had been "one of the hardest working councillors I've ever met".
He added: "At this point, I think it's important that Gregor takes time to reflect on recent events and to focus on their wellbeing, and that they are supported throughout this time."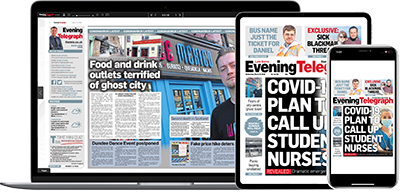 Help support quality local journalism … become a digital subscriber to the Evening Telegraph
Subscribe