A worker at a Dundee care home is set to face a hearing over allegations he mistreated and insulted a resident.
Ernest Byers, 56, is alleged to have handled the resident "roughly or forcefully" at Linlathen Neurological Care Centre on Arbroath Road.
The incident is understood to have happened in March last year and was reported to police.
Byers is also alleged to have used derogatory language within the earshot of a resident at the home on an unknown date.
The allegations relate to his time as an employee of Four Seasons Health Care (Scotland).
Mr Byers, of Monifieth, will face an independent panel and a challenge from the Scottish Social Services Council (SSSC), who allege that his fitness to practise as a social services worker.
The tribunal will take place on November 13 and 14 at the SSSC's headquarters at Dundee's Compass House.
If his fitness to practise is judged to be impaired, Mr Byers could face a number of sanctions, including but not limited to, a warning or a suspension of his registration.
The SSSC says a worker is fit to practise if they meet the standards of character, conduct and competence necessary for them to do their job safely and effectively, with particular regard to the code of practice for social service workers and the code of practice for employers of social service workers.
Linlathen Neurological Care Centre was operated by the Huntercombe Group – part of Four Seasons Health Care – until recently.
The home is now operated by Living Ambitions, part of London-based care firm Lifeways.
Lifeways is not implicated in Mr Byers' upcoming hearing.
A spokesman for Four Seasons Healthcare said had left his job with Huntercombe Group last year.
He added: "We have robust safeguarding and HR processes in place under which we deal with any concerns about care of patients or conduct of care team members.
"The centre was transferred to Lifeways Community Care in July last year."
Mr Byers declined to comment when contacted by the Tele.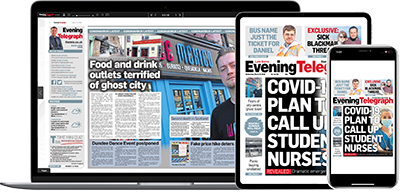 Help support quality local journalism … become a digital subscriber to the Evening Telegraph
Subscribe