A man who raped an 18-year-old woman has been told he must now "pay the price" for his horrific attack near Dundee city centre.
Mark Arnott was jailed for more than nine years today after pleading guilty to raping the student in a private car park on West Henderson's Wynd on November 23 last year.
He also threatened to stab his victim.
The 37-year-old had just been released from prison after serving a previous sentence.
The court heard his distraught victim has self-harmed and felt suicidal following her ordeal and has undergone a range of medical tests and sessions with psychologists.
In her victim impact statement, she said it is a daily achievement that she has "survived another day"
Defence counsel Ronnie Renucci said Arnott initially intended to assault and rob the woman.
Mr Renucci said his client was under the influence of drugs at the time of the offence and had struggled to cope with life following his release from an English prison.
He told Lord Mulholland: "The only explanation I can give as to why his judgement was so clouded is the amount of drugs he had taken and having been released from that English sentence found life difficult to adjust.
"To his credit he had found employment in that short period of time but unfortunately he returned to his use of drink and drugs as a coping mechanism.
"His recollections are somewhat hazy as a result. He does very much regret his actions.
"The only credit he can take is that he pled guilty and spared the complainer any further anguish at his hands."
Lord Mulholland handed Arnott an extended sentence of nine-and-a-half years in prison with four years of supervision following his release.
Addressing Arnott, the judge said: "You were released on licence on November 3 from a sentence of four-and-a-half years at Southampton Crown Court for robbery.
"Twenty days later in a public place in Dundee you assaulted and raped a young woman, an 18-year-old woman, a student who came to study in Dundee at one of our great universities. She was a complete stranger to you.
"As a result of you raping this young woman, she has suffered panic attacks, flashbacks, nightmares, periods of self-harming, suicidal thoughts, difficulty in sleeping, she's scared of the dark, difficulty in concentrating."
"You inflicted this suffering on her by your actions.
"It's time for you to pay the price for your crime."
Man who raped teen in Dundee car park weeks after prison release sent back to jail
Police issue statement praising victim as rapist jailed for horrific Dundee attack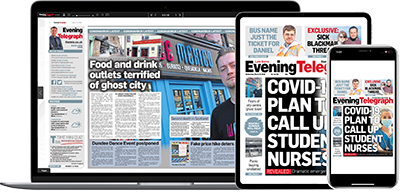 Help support quality local journalism … become a digital subscriber to the Evening Telegraph
Subscribe