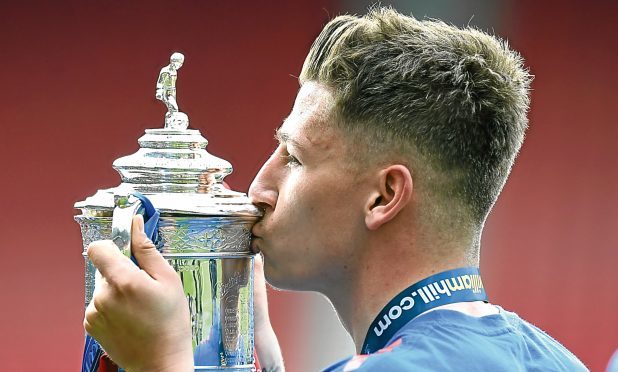 Josh Meekings says Dundee have enough about them to emulate Caley Thistle's 2015 Scottish Cup success — taking care of business against the Highlanders tomorrow, though, is all he's focused on.
Meekings was a big part of that Inverness Caley side that lifted the famous trophy at Hampden thanks to a 2-1 win over Falkirk three years ago.
They might now be a Championship outfit but the central defender knows the Dark Blues will have to hit the ground running again after their winter break — and he's keen to get one over on some old team-mates while he's at it.
Meekings said: "It's a first for me. I've never played my old team before, so it will be strange playing against a few of my old team-mates.
"I'm looking forward to it and they know I'll be ready for battle, as I know they are.
"I had a chuckle when I saw the draw and thought that's football for you — it was bound to happen!
"It is just another game but an important one and we want to get through this round of the cup.
"Inverness have had a good couple of weeks. I still speak to some of the boys and they've been scoring a few goals, so it's up to us to keep it tight.
"They've got good players but it's down to us — if we play our game on the day, we've got plenty who are good enough to go out there and get a result."
Meekings played every round of that 2015 cup run and says there's a similar feeling about the dressing-room at Dens as there was in the Highland capital.
"Definitely," he added. "There's that togetherness, we have a similar dressing-room at Dundee with a lot of banter and everyone's together but we pull each other through when things aren't going so well.
"I definitely think we have enough in the dressing-room and the way the manager has been trying to play and what he's trying to do has started to show on the pitch.
"Hopefully, going into this game can kickstart us again and we can get a little cup run going.
"I do believe we have enough to do that but we need to be on it tomorrow — if we are, we have a great chance."
And Meekings says a cup run like that 2015 one can transform a season.
"From what I remember, it was brilliant.
"Everyone is buzzing, everyone is enjoying their football and there's something to look forward to – that shows week in, week out.
"You just keep playing every game the same way, enjoying your football and it keeps everything ticking over knowing there's something at the end to look forward to.
"I think it's a great opportunity but it is down to us and, ultimately, we've got to go out there and do the business.
"We did really well that season in the league, too.
"If you've got that team spirit and togetherness, everything sort of ticks over and you drag each other through.
"You might have a bad game but the next week you're back at it and you keep upbeat.
"That's what a cup run does — it keeps things upbeat and there's a great atmosphere around the place.
"If we can get that going it would be great for us.
"Hopefully, the fans will be excited and there will be big numbers.
"It's a big cup and a great opportunity for the club to try to get a bit of silverware."