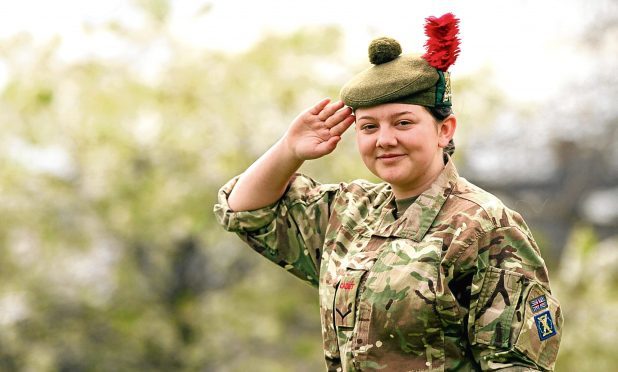 Dundee charity champion Megan Fletcher has won a top award at an Army Cadet camp — despite having major health concerns.
Megan, 16, was the face of the Tele's Bald is Beautiful campaign, helping to raise more than £20,000 for local children suffering from cancer while fighting the illness herself.
Last March, Megan was told she was in remission after undergoing chemotherapy in Edinburgh and was delighted to get back to a normal life.
Now Megan, who is an Army Cadet, has just returned from 12 days at cadet camp at Altcar near Liverpool.
However, while she was away Megan discovered another lump under her arm.
It was the discovery of a lump under her arm that led to doctors diagnosing Hodgkin's lymphoma in September 2015.
The brave schoolgirl, who goes to St John's High School, stayed at camp and at the end of the 12 days discovered she had won the Padre's Award for helping others.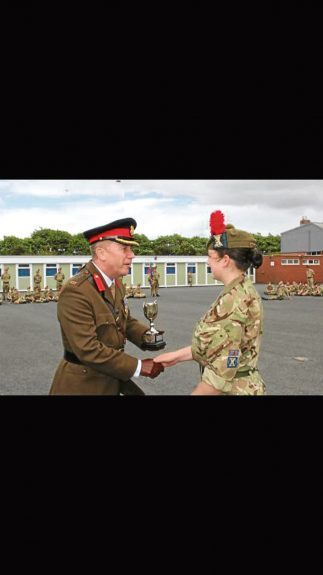 She said: "When I discovered the lump at the end of the first week of camp, I didn't really want to tell anyone.
"I was determined to stay at the camp until the end and was worried they would tell me to go home."
However, Megan eventually confided in a friend and was then forced to tell an adult because she kept fainting.
She added: "They took me to hospital down there where I had various tests, all of which they were happy with.
"The decision was taken that I could stay at camp as long as I went straight to hospital once I got home."
Megan returned from camp on Friday and on Monday she was back at the Royal Hospital for Sick Kids in Edinburgh being properly checked out.
She said: "I'm not too worried. I'm sure everything's going to be OK. I just have to wait and see."
Megan said she was delighted to have won the award, given out for helping others.
She added: "I had actually nominated another girl who had helped me loads at camp.
"So when the name of the winner was read out, I began clapping because I thought it was her.
"I hadn't heard my name being read out and was shocked when I realised I was getting it.
"They said they gave it to me because despite everything that I was going through I had still helped others.
"It was a lovely surprise and I'm really chuffed."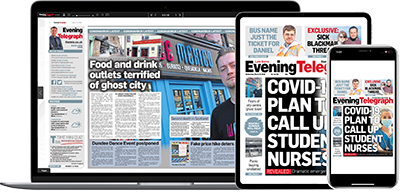 Help support quality local journalism … become a digital subscriber to the Evening Telegraph
Subscribe