Neil McCann insists there is "nothing happening" in relation to a deal bringing Lawrence Shankland to Dens Park.
Instead, the Dundee gaffer is set to add Shrewsbury striker Sam Jones to his attack.
Speaking yesterday, Neil said: "Sam Jones is one we have looked at, one of a few but I don't want to be disrespectful to Shrewsbury by commenting too much on it.
"We have looked at him. We have asked the question and spoken to the club and I believe there is an agreement there but there is nothing agreed with him yet."
Ayr striker Shankland, who has started the season in scintillating form with nine goals in five games, has been linked with a move to Dundee in recent weeks.
It was reported on Thursday that the newly-promoted Championship club had rejected a bid from an English side for their striker, but McCann, who has made it clear he is keen to add to his attacking options, played down his interest.
"It's really unfair to comment on any players I am after," he said. "What I would say is that I have been in the market and been actively trying to get players.
"Some have come close and fallen through, others not.
"Lawrence is a very talented player.
"I know him from my time at Dunfermline and have no doubt he could come to a club like Dundee and do very well, especially in the Premiership.
"But as it stands there is nothing happening."
He added: "We tried to do some business on Thursday, it didn't quite happen but we will continue working on that."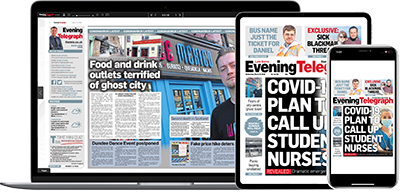 Help support quality local journalism … become a digital subscriber to the Evening Telegraph
Subscribe