Etched on to Perth Academy's First World War memorial are the names of 168 staff and students who lost their lives during the conflict.
Of those brave souls, only one was a woman – Mabel Lee Milne, a Dundee-born nursing sister who had left behind a comfortable job back home to help soldiers wounded on the frontline.
Millions of servicemen died in these conflicts, the vast majority men.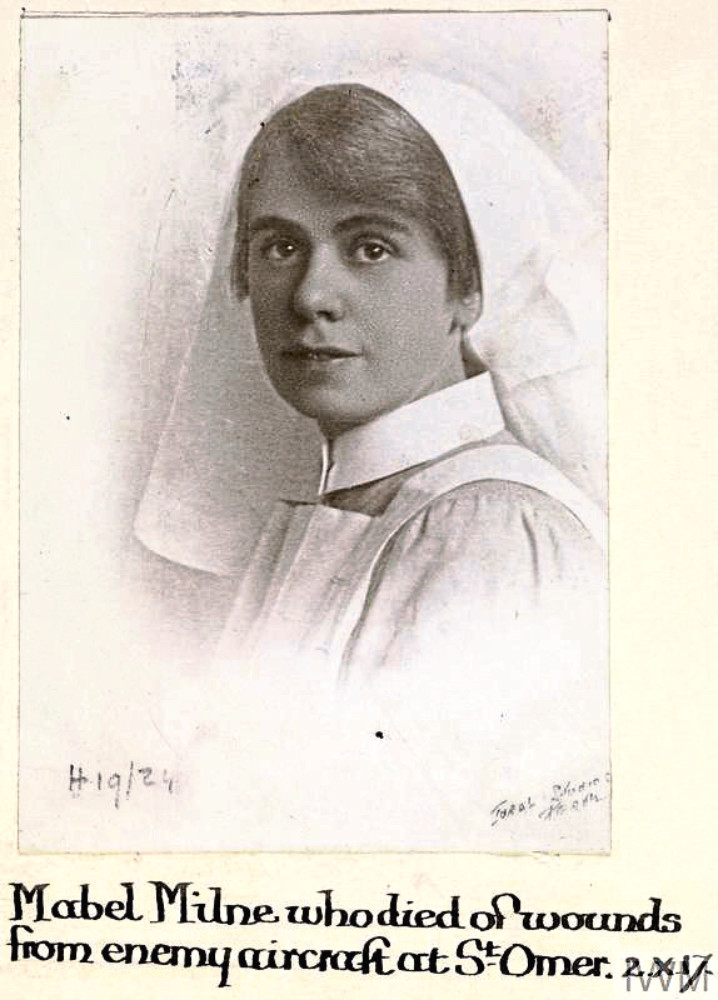 However, 1,500 Allied nurses also perished in the First World War, some from disease and some from enemy action. Mabel was among them.
She was born in Dundee on January 8 1886, the eldest daughter of James Mitchell Milne, a district traffic agent for Caledonian and West Coast Railway, and his wife Mary.
In 1901 Mabel was living at Craigie Road, Perth, with her father, mother, elder brother George, 22, and younger sister Maggie, 11.
On May 29 1917, a 31-year-old Mabel started work as a staff nurse at the 58th (Scottish) General Hospital near St Omer, in France. It was dangerous work but Mabel was undeterred.
But just four months later, on the night of September 30, the hospital was bombed by German aircraft in one of the most barbaric attacks of the war.
According to the unit's description of events, three bombs were dropped on the hospital at 10.30pm – two on the patient marquees and one on the nurses' compound.
Three nurses were killed in the attack and three others, including Mabel, were seriously injured. Sixteen other ranks were killed and a further 60 wounded.
A day later, Mabel succumbed to her injuries.
Two other people later died, bringing the air raid's final death toll to 22.
Mabel was buried at Longuenesse (Saint Omer) Souvenir Cemetery, alongside the other nurses killed in the attack – Agnes Climie, Elizabeth Thomson and Daisy Coles, as well as thousands of other soldiers.
Last year, to mark the centenary of her death, staff and pupils laid a wreath at the school memorial and gave readings in her honour, just as they do for every person named on the wall.
Former Perth Academy technical teacher David Dykes has penned a book detailing the lives of Mabel and the other 167 former academy pupils who gave their lives in the First World War.
David explained: "We have 168 people on the memorial in the academy and they died from 1914 until 1919. As close as we can to the anniversary of their death, we have a memorial where we read out a bit about the person and lay a poppy wreath.
"On a number of occasions, family members come to the school services as well.
"People come from all over the place. It is great to get everyone together from the community and the school and from The Black Watch Museum in Perth."
The remembrance services are arranged by history teacher Laura Hobson, who said descendants of some of the fallen have travelled from as far away as Canada to be at the services.
Laura and her pupils also travel to France to see the graves of the former Perth Academy students, including Mabel's.
She said: "Mabel is someone I try to use in my history lessons to prove to my pupils that it was not just men that fought in the First World War.
"Although a non-combatant, she performed heroically behind the lines and it's nice we have pictures of her, that allow us to put a face to a name. I've been going along with some pupils to the battlefield for the last five years to visit Mabel's grave, where we pay our respects to a former pupil who made the ultimate sacrifice."
Mabel is also commemorated on the Wilson United Free Church War Memorial at St Matthew's Church of Scotland in Perth, as well as on the Women of the Empire Memorial at York Minster.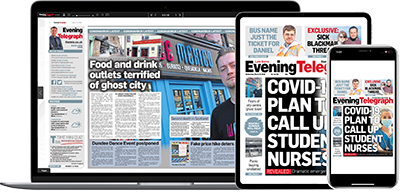 Help support quality local journalism … become a digital subscriber to the Evening Telegraph
For as little as £5.99 a month you can access all of our content, including Premium articles.
Subscribe