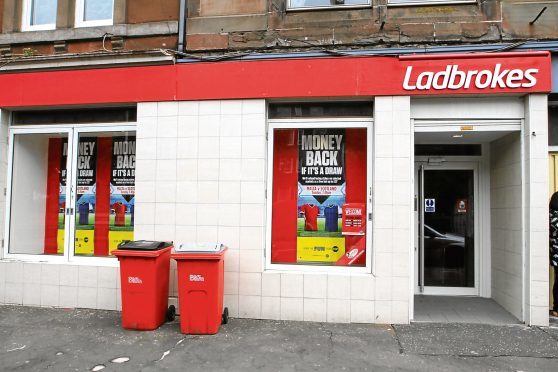 A betting shop worker was told by a man: "I'm going to rob you, phone the police," as he brandished a glass bottle, a court has heard.
James Gorrie, 42, denies five charges at the High Court in Edinburgh including assaulting taxi driver James McArtney during a journey through Dundee and trying to rob Paula Lyttle, a worker at Ladbrokes in Strathmartine Road, on August 29 last year, along with resisting arrest and possessing cocaine.
Giving evidence yesterday, Ms Lyttle, 32, said she was working in the bookies alone with one male customer playing a gaming machine on the day in question, when Gorrie entered the shop.
She said from the outset he appeared "agitated". She said: "I noticed he was carrying a bottle of alcohol with him, Buckfast.
"He began to engage the other customer in conversation and I assumed he was there to see him, that they knew each other."
Miss Lyttle said she became increasingly concerned about the nature of Gorrie's conduct.
"He touched him in a way that made him spin around on his chair. The conversation seemed very aggressive," she said.
Jurors heard how Gorrie told Ms Lyttle: "I'm going to rob you", when she tried to engage him in conversation — but he was warned that there were CCTV cameras in the store.
Ms Lyttle continued: "He said again that he was going to rob me and I should phone the police. Being told someone was going to rob me isn't that odd. Occasionally people joke that they are going to rob the shop. But he didn't seem like he was joking.
"He became more and more insistent that I call the police and was edging forward towards the counter and made me feel more and more uncomfortable."
She called police as the other customer left the shop without cashing his winnings.
Miss Lyttle said: "He began to hit the bottle against the counter.
"He was banging it and it was making a particularly disturbing sound.
"At this point I had backed off as far from the counter as I could.
"Then he told me he was going to jump the counter. I was frightened."
He made his way to the door and left a short time later, before police arrived, she added.
The trial continues.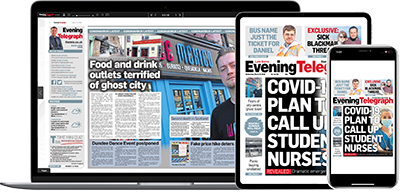 Help support quality local journalism … become a digital subscriber to the Evening Telegraph
For as little as £5.99 a month you can access all of our content, including Premium articles.
Subscribe