The number of people in Dundee who claim work–related benefits is starting to stabilise following the rollout of Universal Credit (UC).
Figures released by Jobcentre Plus for October show 4,320 locals are in receipt of old-style awards such as jobseekers' allowance (JSA) or the new, all-in-one payment.
It represents 4.4% of the city's working-age population and a 42% rise in the number of claimants since October last year.
However, this spike has been attributed to the rollout of "full service" UC in November, which covers all new applicants from single people to families of up to four.
Long-term claimants on old benefits such as JSA will be gradually moved over to the new system between 2019 and 2023.
Jane McEwen, service leader at Dundee's Jobcentre Plus, said the centre's priority was now fully on helping people into work.
She said: "We're working with partners in employability such as the Wise Group and the local authority to upskill people for work.
"We're working closely with D&A College on employability courses so people can do things like build their confidence and get motivated – getting people used to where they are now and what jobs there are out there."
The centre is also continuing its work with local employers in order to shed the image of the Jobcentre as a one-stop benefits shop.
Dundee's Jobcentre Plus has partnered with 40 employers across the city to encourage an uptake in disabled people getting into work in a scheme called Disability Confident.
In addition, it has teamed up with gastropub chain Marston's to source upwards of 35 jobs for its new Camperdown Elm location beside the Kingsway.
In recent months, Jobcentre staff have worked on similar efforts with V&A Dundee and Sleeperz Hotels, among others, to help more people into work.
Jane added: "We're very good for employers new to the area because we can provide them with interview facilities and, with our partnership with D&A College, we can provide a trained workforce.
"It's a win-win for everybody."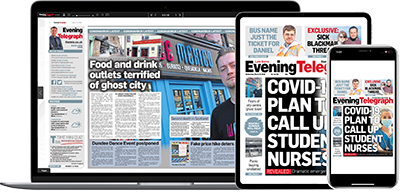 Help support quality local journalism … become a digital subscriber to the Evening Telegraph
Subscribe