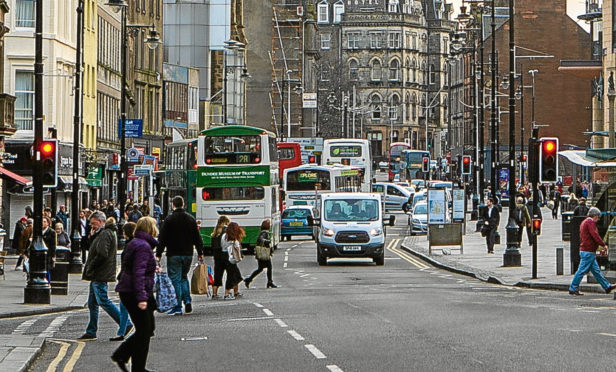 A beggar who forced a terrified student to withdraw almost £200 from a cash point has been locked up.
Ye Tian was cornered by Seamus McDonagh, 37, in the Nethergate while she was walking home on Tuesday night last week.
McDonagh, originally from Ireland but staying at the Lily Walker Centre, told Miss Tian, 21, he would pay back the money when he could.
Dundee Sheriff Court heard that McDonagh first acted aggressively towards Scott Fairfield in the Murraygate last Monday, seized him by the arm and repeatedly requested money from him but was unsuccessful.
Soon after, he took Oliver Burton to an ATM in the same area and managed to take £20 from him.
The following day, McDonagh approached Miss Tian and took her to an ATM. Fiscal depute Kirsten Letford said: "While at the ATM the accused asked her for £20.
"She inserted her card and handed the £20 to the accused.
"The accused then stated he needed more money and asked her to insert the card again. As she did, the accused leaned over and pressed the £50 button on the ATM."
After repeatedly demanding more cash, McDonagh pressed the £100 button on the ATM when Miss Tian again inserted her card, said Ms Letford.
McDonagh said he would repay the money and asked for her phone number which she gave him but after he left, Miss Tian contacted the police. She was left "very scared and frightened," the fiscal added.
McDonagh appeared from custody and pleaded guilty to acting aggressively towards Mr Fairfield by seizing his arm and repeatedly requesting money on Monday.
He also admitted robbing Mr Burton of £20 on the same day and stealing £170 from Miss Tian on Tuesday.
Solicitor John Boyle said McDonagh appreciated the offences were "very serious".
Sheriff John Rafferty jailed McDonagh for eight months.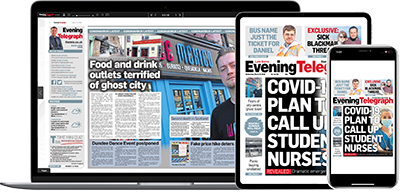 Help support quality local journalism … become a digital subscriber to the Evening Telegraph
For as little as £5.99 a month you can access all of our content, including Premium articles.
Subscribe