A Dundee basketball club has made a dream come true for a young disabled Irish girl.
Eight-year-old Molly McNamara, from Achill Island off County Mayo on the west coast of the Republic of Ireland, has cerebral palsy.
Her lifelong dream has been to play basketball, which she adores.
Now, thanks to Dundee Madsons and one of their coaches, Steph Robertson, Molly has been able to achieve her dream.
She also joined the club's under–12 team when they acted as mascots for Caledonia Pride Women's team at a big game in Edinburgh last weekend.
Debbie MacCallum, of the club, explained that Steph runs her own personal training business and that was how she first met Molly.
She said: "When Steph began working with Molly in 2014, she couldn't stand up.
"Steph visits Ireland six times a year and Molly trains every day following a programme she has developed for her.
"At the last count Molly took over 200 steps independently and can walk with sticks, and run with her walker.
"She happened to be in Scotland for a course the weekend when the Dundee Madsons Under–12 Girls basketball team were playing in the Regional Development League in Ellon.
"Molly had been asking Steph for years about the basketball and that weekend she joined in the training and she loved it – and the girls loved her.
"She was invited up to the games with the intention that they would ask the other team coaches if she could take throw–ins but, if this wasn't possible, she could join the team on the bench and join in the warm-up. The other team's coaches were fantastic.
"In the first two games she took the throw–ins a few times then, in the third, she took part in the game.
"She is now 100% a 'Madson' and has joined the family. She will always train with them when she is over in Scotland."
Molly's mum Natasha said: "Steph and the Dundee Madsons have been truly amazing.
"This opportunity means so much to Molly, especially acting as a mascot leading out Caledonia Pride."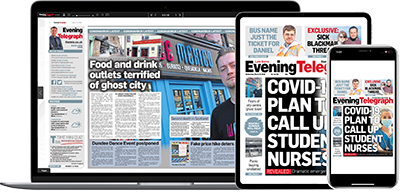 Help support quality local journalism … become a digital subscriber to the Evening Telegraph
For as little as £5.99 a month you can access all of our content, including Premium articles.
Subscribe