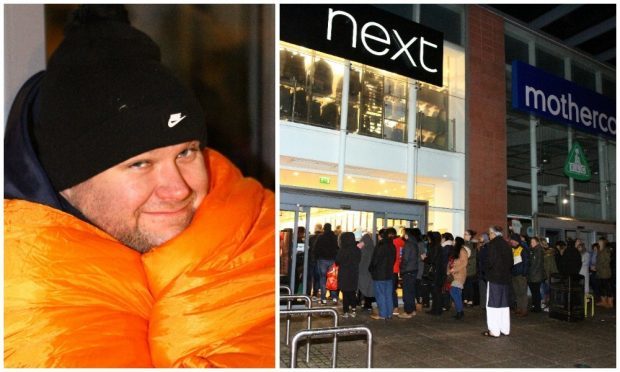 Hundreds of people braved freezing temperatures in Dundee in a bid to bag a bargain in the Boxing Day sales.
Some people arrived as early as 2am in Dundee while others admitted they should have wrapped up warmer given the icy conditions.
However, they all reckoned it was worth the wait despite temperatures peaking at just 1C at 6am.
About 200 people queued outside Next in the city's Gallagher Retail Park.
Heading up the queue, was Shams Alani, 28, of the city's Albert Street.
Shams, 28, a full-time mum, arrived at the store at 2am and was first there.
She added: "I must admit I'm really freezing.
"I should have had more clothes and maybe something to sit on because I ended up sitting on the cold ground to begin with.
"I had around £1,000 to spend on clothes for my little boy.
"He's two-and-a-half just now and will be three in July.
"Today, I bought clothes in different sizes so they will last him all year long.
"It's a great way to really get bargains and keep him in clothes all year round.
"After this I'm going to go into town to Zara to get clothes for myself."
Veteran bargain hunter Simon Richardson, from Kirriemuir, was more than prepared for the long cold wait.
He brought a sleeping bag and a deckchair to sit on.
The 37-year-old added: "I stayed with my mother-in-law in Charleston in Dundee last night to get here early today. I arrived at around 3.30am. This is the seventh year I have queued to get clothes for my children in the sales.
"This has become something of a tradition.
"I am happy to be here because it saves such a lot of money."
Danielle Stewart, 29, from St Mary's, started queuing at 3.15am.
The nursery nurse was hoping to buy a whole new wardrobe for her little boy who is five.
She continued: "I don't have a budget.
"I will just wait to see what they have and hopefully get enough to buy him new clothes for the entire year ahead.
"You really do get great bargains in the sale so it's worth getting up early and queuing in the cold.
"Although I must admit its been freezing."
Her mum Carole Stewart, 51, also of St Mary's, said she was there as back-up.
Carole added: "I am not looking for any bargains myself but if I see something I will buy it."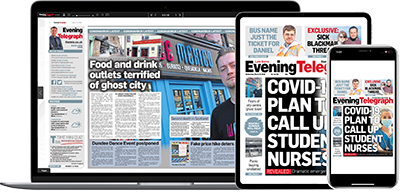 Help support quality local journalism … become a digital subscriber to the Evening Telegraph
Subscribe