A Dundee band are gearing up for a final farewell after 20 years together.
Stuart Purvey, frontman of city rockers The Law, said the band's set at Carnival Fifty Six next month is likely to be their last after he recently moved to Amsterdam.
The four-piece will share the Jam: Live Tent with pal Kyle Falconer — lead vocalist with The View — at the festival.
And Stuart says their loyal fans can expect a lively performance.
Speaking to the Tele, he said: "It's going to be great. It's a proper homecoming for me considering I've just moved to Amsterdam.
"As far as I'm concerned though, I think this is it for us.
"We haven't been up to much together for quite a while and I'm not sure what more we can do.
"But I'm coming home for the party and I just hope everyone turns out for it.
"They're going to get an in-your-face, rock and roll performance from us like we've always given."
Stuart formed the band in 1997 alongside Stevie Anderson (guitar) and brothers Martin Donald (drums) and Simon Donald (bass).
After almost a decade, The Law began to make waves on the UK indie scene with singles Milk & Honey and Still Got Friday To Go in 2007.
Their debut album, A Measure of Wealth, was released two years later with tracks from the album receiving national airplay.
They also received a radio station award for being the best breakthrough act.
Festival slots followed and single Don't Stop, Believe was used in the trailer for film The Men Who Stare At Goats which starred George Clooney. But the band haven't performed together since last year and new material has been scarce.
Stuart added: "Me living in Amsterdam now is going to make it pretty much impossible for us to do anything.
"The last time we performed was at the Barrowlands in September when we supported The View.
"I love the boys in the band — we've achieved a lot but I'm treating this as a going away party. Hopefully we get a great turnout and we'll be bringing a party atmosphere to Camperdown Park."
n Carnival Fifty Six takes place at Camperdown Park on August 12 and 13.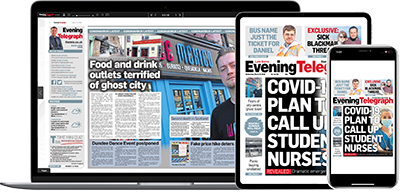 Help support quality local journalism … become a digital subscriber to the Evening Telegraph
Subscribe