Champion the Wonder Horse's galloping days in Dundee could soon be over – with the owner putting it up for sale online.
For more than 30 years, the aluminium horse was a popular ride at Hynd's stall in the arcade at the old Shore Terrace. When the arcade closed in 1981, Champion was snapped up by Arbroath man Bill Adam.
Mr Adam – who had been raised in the city's Carolina House orphanage and said he grew up with "no other toys but Champion" – made an arrangement to buy the horse, should it ever be put up for sale.
Champion went on display The McManus and latterly at the Dundee Museum of Transport.
But Mr Adam has now put the horse up for sale on auction website eBay.
The listing for Champion has an asking price of £8,250 and also allows potential buyers to make an offer.
The auction description reads: "Vintage coin operated mechanical horse, one of the very first made from solid cast aluminium.
"It took pride of place in Dundee's City Arcade Amusement area from 1950 till 1981 when the Arcade closed down. I have owned it since then.
"It was always affectionately known as 'Champion the Wonder Horse' as that was the music that played when you put your money in. Champion was on display for a while in the Dundee Museum 'McManus Galleries' and is now currently on loan to the Museum of Transport.
"Three years ago he was lovingly restored to his former glory.
"Champion the Wonder Horse has many fond memories connected to the bairns of Dundee.
"Champion even has his own Facebook Page. It was estimated that over the decades upwards of 35,000 children have ridden this Champion the Wonder Horse.
"In a recent poll of famous Dundee Personalities he ranked at number 50! He'd make an ideal showpiece for any establishment."
The listing does not explain why Mr Adam wants to sell the horse.
Mr Adam, who now runs the Harbour Nights guest house in Arbroath, has previously said that he would like to see Champion given a permanent home inside one of Dundee's museums.
He told the Tele in 2014: "Champion means so much to so many people I don't want to see him hidden away."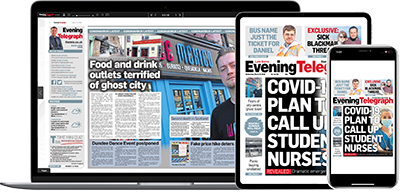 Help support quality local journalism … become a digital subscriber to the Evening Telegraph
For as little as £5.99 a month you can access all of our content, including Premium articles.
Subscribe