Plans to relocate Dundee and Angus College to the Michelin factory site could be put to bosses at the tyre giant as early as this week.
The proposal was discussed yesterday at the National Economic Forum, being held at the Apex Hotel in Dundee.
D&A principal Grant Ritchie revealed the college is keen to move from its old campus on Kingsway on to the Baldovie factory site after Michelin closes its Dundee operation in 2020.
He said he wanted to create a "skills-based revolution" at a new campus specialising in science, technology and manufacturing.
Derek Mackay, the Scottish Government's economy secretary, confirmed that the proposal was one of the key possibilities being considered by the Michelin Action Group.
First Minister Nicola Sturgeon, who was at the summit following a private meeting with Michelin workers yesterday morning, urged college bosses to sit down and talk with government ministers as soon as possible.
Ms Sturgeon said: "College bosses and Mr Mackay need to get together to discuss this option.
"The Scottish Government has two options we are looking at for the Michelin plant.
"One is to see if anything can be done to continue manufacturing at Michelin.
"The other, more realistic option, is re-purposing the site to provide some form of employment and maintaining Michelin's presence in Dundee."
D&A College had previously expressed interest in helping Michelin workers either retrain or complete apprenticeships after the factory closes in about 18 months.
Mr Mackay said: "The proposals to move the college to the site is one of the options being considered and one we hope to be in a position to present to Michelin by Friday.
"The action group has been working intensively to come up with suggestions to put to Michelin.
"By moving the college on to the site we would be providing educational, skills and apprenticeship opportunities."
He stressed the option was not the only one being considered but said he was not in a position to reveal the others.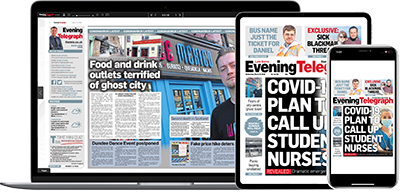 Help support quality local journalism … become a digital subscriber to the Evening Telegraph
Subscribe